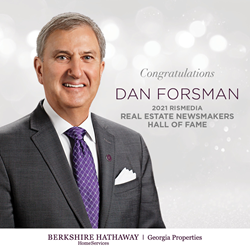 "One of the best parts about my job and the work that I do is being able to motivate others to challenge the status quo and find out-of-the-box solutions that progress our company forward in today's competitive market." - Dan Forsman
ATLANTA (PRWEB) February 09, 2021
RISMedia, the leading news provider for the residential real estate industry, recently announced that Dan Forsman, President and CEO of Berkshire Hathaway HomeServices Georgia Properties, has been named to the RISMedia's 2021 Real Estate Newsmakers Hall of Fame. Forsman was chosen from among 700 industry nominees and will join nine other elite leaders for this lifetime achievement. This select group of icons are celebrated for their long-standing and exemplary service for making headlines due to their newsworthy contributions to the real estate industry and their positive effect on the consumers and communities they serve.
"Every year, we're amazed by the incredible ingenuity and success of members in the real estate community, ranging from the glass ceilings being shattered by industry leaders, to the creativity and innovation being implemented at a record pace, and all the way to the wonderful charitable work being accomplished across the nation," said John Featherston, CEO, president and publisher of RISMedia. "This year, more than ever, we are proud to recognize the hard work, dedication, and determination of real estate's finest professionals—the 2021 Real Estate Newsmakers—who went above and beyond in 2020 even amid a turbulent time for the industry, and the world, facing the challenges head-on and without fear."
The 2021 Hall of Fame inductees will be honored at a live event later this year. They will also be spotlighted in a special Real Estate Newsmakers feature in the February issue of RISMedia's Real Estate magazine and online at the Real Estate Newsmakers Directory.
"I am beyond honored to be inducted into the RISMedia Hall of Fame alongside some of the most talented individuals in the real estate industry," said Forsman. "One of the best parts about my job and the work that I do is being able to motivate others to challenge the status quo and find out-of-the-box solutions that progress our company forward in today's competitive market. This once-in-a-lifetime recognition would not be possible without the endless support, loyalty, and trust placed in me by the sales associates, leadership and colleagues I have the privilege to work with."
Under Forsman's leadership, Berkshire Hathaway HomeServices Georgia Properties has become the market leader for real estate companies throughout the Greater Atlanta area. His passion for creating a culture of respect, diversity, and innovation positions the company to redefine real estate across the entire industry. With over 30 years of experience, Forsman is recognized as a strong leader, visionary and influencer. He was named as one of Swanepoel Power 200's Most Powerful People in Residential Real Estate and, received the Industry Icon award from Modern Luxury Interiors Atlanta magazine. Other honors include Most Admired CEO from the Atlanta Business Chronicle where the company was also awarded the Best Employee Category. Today, Berkshire Hathaway HomeServices Georgia Properties is ranked No. 1 in homes sold by Trendgraphix and Smart RE Data.
About Berkshire Hathaway HomeServices Georgia Properties
Berkshire Hathaway HomeServices Georgia Properties has over 1,600 associates and 26 locations across the Greater Metro Atlanta and North Georgia area. The company generated over $4.4 billion in sales volume and 11,606 transaction sides in 2020. Trendgraphix reports that Berkshire Hathaway HomeServices Georgia Properties is ranked #1 in home sales for the Greater Metro Atlanta area. Led by president and CEO Dan Forsman, the organization offers a full suite of real estate services including residential real estate, luxury real estate, new homes services, condo/ high-rise services, commercial real estate, corporate relocation, property management, mortgage lending, title and settlement services, home warranties and insurance. Equal Housing Opportunity. Visit http://www.BHHSGA.com.