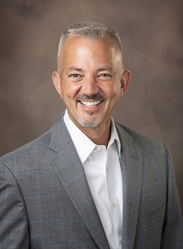 In the few months since Dan has joined us, we've felt his positive impact within many key areas of the company, and his knowledge and experience have already been invaluable. —Kevin Wiles, President, PenFed Realty LLC
ALEXANDRIA, Va. (PRWEB) December 06, 2021
Berkshire Hathaway HomeServices PenFed Realty, one of the country's fastest-growing real estate brokerages with more than 2,000 Realtors® and over $8 billion in annual sales volume, today announced that Senior Vice President Dan Lesher, who oversees the company's greater Fredericksburg region, will expand his leadership role.
Effective immediately, Lesher will provide additional support for the company's three Prince William County offices in Northern Virginia, and four in Richmond. These include the branches in Gainesville, Manassas, and Lake Ridge in Prince William County; the Bon Air, Regency, Short Pump and West End branches in Richmond; plus the Fredericksburg, Stafford and Ferry Farm branches that he currently oversees.
"I'm excited to serve in this expanded role for the company and work with the outstanding managers, agents, and staff in these additional branches," Lesher said. "The real estate market from Prince William to Richmond continues to be a busy one, with extremely high demand. With the continued growth we're expecting in this region, I'm looking forward to helping grow our agents and teams in these areas, and to provide them with the superior support and resources they've come to expect from the Berkshire Hathaway HomeServices brand."
Lesher joined the company as the leader of Berkshire Hathaway HomeServices Select Realty, which merged with PenFed Realty in May 2021. Since coming onboard, Lesher has been a dynamic part of the company's executive leadership team while continuing to ably lead the original three Select Realty offices in Stafford and Fredericksburg.
"In the few months since Dan has joined us, we've felt his positive impact within many key areas of the company, and his knowledge and experience have already been invaluable," said PenFed Realty President Kevin Wiles. "The company has had very strong growth historically in the Central Virginia region, which is a testament to our amazing agents and outstanding branch leaders. We also have industry-best support and service teams for our agents and clients in these offices so we believe we can increase our market share exponentially in 2022 under Dan's leadership."
About Berkshire Hathaway HomeServices PenFed Realty
Berkshire Hathaway HomeServices PenFed Realty (http://www.penfedrealty.com) is a full-service real estate company with an annual sales volume of over $8 billion. The company has over 2,000 agents and more than 50 offices, providing complete real estate services nationwide and helping over 20,000 clients with their housing needs each year. PenFed Realty is a wholly-owned subsidiary of PenFed Credit Union and is a member of the Berkshire Hathaway HomeServices brokerage network, operated by HSF Affiliates LLC. We are proud to be an equal employment opportunity employer. Equal Housing Opportunity.