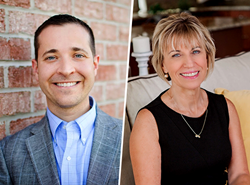 Chris and Jan both have proven track records and represent the same values that the company stands for—integrity, improvement and innovation. —Terri Bracciale, regional president, Baltimore metro
BALTIMORE (PRWEB) June 03, 2019
Berkshire Hathaway HomeServices PenFed Realty, one of the country's fastest-growing real estate brokerages, today welcomed two real estate industry experts to the company's leadership team.
Chris Perry joined the company this month as area vice president of the Baltimore metro region. With over a decade of experience in sales, marketing and management, Perry has worked in various industries including construction and real estate. In his new role, he will be responsible for increasing market share and agent growth in Baltimore and the surrounding area.
"As someone tasked with coaching top agents and attracting new ones to the company, I know I have a great story to tell," said Perry. "Berkshire Hathaway HomeServices PenFed Realty has value propositions that no other brokerage firm has, including our best-in-class tools and services, our focus on helping agents grow their business, and our compensation packages that are second to none. I'm excited to spread the word and let like-minded agents searching for their professional home know what a great place this is to be."
Joining him in the region is Jan Freund, new branch manager of the company's Bel Air and Towson offices. Freund joined the company this month after holding positions as a top-producing salesperson and licensed broker for the past 20 years in Maryland and Pennsylvania.
"I'm both honored and pleased to lead the Bel Air and Towson branches of the company," Freund said. "It's not every day that an opportunity like this opens up in a company like Berkshire Hathaway HomeServices PenFed Realty; and even rarer still when it's in branches that are filled with such motivated, knowledgeable and fun agents such as Bel Air and Towson. I'm excited to get to know all the sales professionals in both offices and can't wait to collaborate with them to grow their careers."
"The company is extremely pleased to welcome Chris and Jan to the company," said Terri Bracciale, regional president for the company's Baltimore metro area. "We conducted a thorough search for just the right individuals to join our leadership team. Not only did we look for talented people with proven track records and the right experience, but we also sought professionals with the same values that the company stands for—integrity, improvement and innovation. Throughout their respective careers, it was evident that Chris and Jan carried these same values, and we're extremely lucky to have them on the team."
Perry was born and raised in the Washington, DC area. He is a graduate of the University of Maryland and currently resides with his family in Bel Air. Freund was born in Kentucky and moved to Maryland in her mid-20s and is currently living in Harford County with her family. Perry will be based in the company's Bel Air office while Freund will split her time between Bel Air and Towson.
About Berkshire Hathaway HomeServices PenFed Realty
Berkshire Hathaway HomeServices PenFed Realty (http://www.penfedrealty.com) is a full-service real estate company with an annual sales volume of almost $5 billion. The company has 1,800 agents and more than 50 offices, providing complete real estate services nationwide. PenFed Realty is a wholly-owned subsidiary of PenFed Credit Union and is a member of the Berkshire Hathaway HomeServices brokerage network, operated by HSF Affiliates LLC. We are proud to be an equal employment opportunity employer. Equal Housing Opportunity.