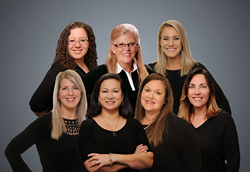 Jessica, Laura and their extended team of agents bring with them an impressive track record of serving thousands of individuals and families around Fort Meade. - Terri Bracciale, Baltimore Metro Region President
ALEXANDRIA, Va. (PRWEB) February 25, 2021
Berkshire Hathaway HomeServices PenFed Realty, one of the country's fastest-growing real estate brokerages, welcomes The Roskelly Team, a top-ranked group of real estate professionals serving the area of Fort Meade, Maryland. The team is led by founders Jessica Hood, Tom Roskelly and Laura Roskelly.
"We are delighted to welcome The Roskelly Team into our company," said Baltimore Metro Region President Terri Bracciale. "Jessica, Laura and their extended team of agents bring with them an impressive track record of serving thousands of individuals and families around Fort Meade. We see a team that already embodies our mission, vision and values through their dedication to going the extra mile for every client, and we are excited to support them as they grow their business."
Founded in 1999, The Roskelly Team specializes in serving families in the military community seeking to buy, sell or rent a home near Fort Meade, Maryland, and surrounding areas. As veterans and family of service members, these expert Realtors® understand the unique needs of those relocating as an inevitable part of military life.
"We are thrilled to affiliate with a brokerage that aligns with the foundational tenets of our team members and our future business goals," said Hood. "We've known the Berkshire Hathaway HomeServices PenFed Realty Brand for some time now, and after meeting and collaborating with representatives at all levels of the organization, we are beyond excited to take the tools, technology, customer service and support to the next level for our clients."
The Roskelly Team currently comprises seven real estate professionals. They can be reached via their website at https://www.fortmeadehomes.com or by phone at 410-721-6694.
About Berkshire Hathaway HomeServices PenFed Realty
Berkshire Hathaway HomeServices PenFed Realty (http://www.penfedrealty.com) is a full-service real estate company with an annual sales volume of over $6 billion. The company has over 2,000 agents and almost 60 offices, providing complete real estate services nationwide. PenFed Realty is a wholly owned subsidiary of PenFed Credit Union and is a member of the Berkshire Hathaway HomeServices brokerage network, operated by HSF Affiliates LLC. Membership with PenFed Credit Union is not required to conduct business with BHHS PenFed Realty. We are proud to be an equal employment opportunity employer. Equal Housing Opportunity.