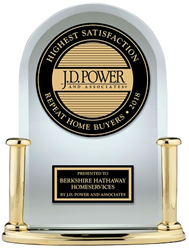 "At the end of the day, it's the satisfaction felt by our customers that powers our business, moves us forward and drives our growth—day in and day out."
ALEXANDRIA, Va. (PRWEB) November 21, 2018
Berkshire Hathaway HomeServices, an HSF Affiliates LLC company, today announced that the Berkshire Hathaway HomeServices real estate brokerage network ranked "Highest Overall Satisfaction for Repeat Home Buyers Among National Full-Service Real Estate Firms" in the J.D. Power 2018 Home Buyer/Seller Satisfaction Study(SM).
The study, now in its 11th year, measured satisfaction with the nation's largest real estate companies among customers in four segments: first-time buyers; repeat buyers; first-time sellers; and repeat sellers. Overall satisfaction was tracked on a 1,000-point scale across four factors of the home-buying experience: agent/salesperson; real estate company office; closing process; and variety of additional services.
Among repeat home buyers, Berkshire Hathaway HomeServices scored 874 out of a possible 1,000 points, performing particularly well in the agent/sales person category among others.
"Our Berkshire Hathaway HomeServices network represents top-quality service and representation across the U.S. and in Berlin, London and other parts of the world," said Gino Blefari, CEO and president of the network. "The ranking 'highest for repeat home buyer satisfaction' says a lot about our network agents and brokerages. In simple terms, clients experienced our network's service and expertise, successfully navigated the real estate process, and returned for another transaction. Our network agents earn repeat business and that is the true mark of quality service."
J.D. Power's study yielded several key findings about the real estate process in general. Among them:

Real estate agents play critical role of guiding customers through process: Among both buyers and sellers, overall satisfaction scores are roughly 100 points higher when agents provide timely responses to questions; keep customers informed of key points in the transaction; and share comparable properties.
Strong customer satisfaction builds loyalty and advocacy: Across all customer segments, high levels of overall satisfaction with the firm is directly correlated with likelihood to use the firm again for a future transaction and recommend the firm to others.
Reputation matters: A real estate firm's reputation is the No. 1 or No. 2 reason for selecting a company, across all survey respondents.
Social media plays major role: Nearly half (47%) of buyers and 55% of sellers indicate using social media to find agents, with the majority in each case saying they were "delighted" (overall satisfaction of 900 and higher) after doing so.
"Delivering exceptional service to buyers and sellers alike is at the core of our mission, vision and values," said Berkshire Hathaway HomeServices PenFed Realty Mid-Atlantic President and CEO Kevin Wiles. "It's the measure that we hold ourselves accountable to. At the end of the day, it's the satisfaction felt by our customers that powers our business, moves us forward and drives our growth—day in and day out."
Berkshire Hathaway HomeServices tied with another company in this category.
About Berkshire Hathaway HomeServices PenFed Realty
Berkshire Hathaway HomeServices PenFed Realty (http://www.penfedrealty.com) is a full-service real estate company with an annual sales volume of almost $5 billion. The company has 2,000 agents and more than 50 offices, providing complete real estate services nationwide. PenFed Realty is a wholly-owned subsidiary of PenFed Credit Union and is a member of the Berkshire Hathaway HomeServices brokerage network, operated by HSF Affiliates LLC. We are proud to be an equal employment opportunity employer. Equal Housing Opportunity.
About J.D. Power
J.D. Power is a global leader in consumer insights, advisory services and data and analytics. These capabilities enable J.D. Power to help its clients drive customer satisfaction, growth and profitability. Established in 1968, J.D. Power is headquartered in Costa Mesa, Calif., and has offices serving North/South America, Asia Pacific and Europe. J.D. Power is a portfolio company of XIO Group, a global alternative investments and private equity firm headquartered in London, and is led by its four founders: Athene Li, Joseph Pacini, Murphy Qiao and Carsten Geyer.
The 2018 Home Buyer/Seller Satisfaction Study includes 4,072 evaluations from 3,332 customers who bought and/or sold a home between March 2017 and April 2018. The study was fielded from March through May 2018. For more information about the 2018 Home Buyer/Seller Satisfaction Study, visit https://www.jdpower.com/business/resource/us-home-buyerseller-satisfaction-study.
About Berkshire Hathaway HomeServices
Berkshire Hathaway HomeServices, based in Irvine, CA, remains one of the nation's fastest-growth real estate brokerage networks with more than 48,000 agents and 1,400 offices named to the brand since its launch in fall 2013. The network, among the few organizations entrusted to use the world-renowned Berkshire Hathaway name, brings to the real estate market a definitive mark of trust, integrity, stability and longevity. Visit http://www.berkshirehathawayhs.com.