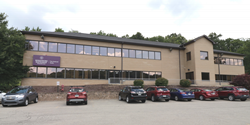 "We found that delivering personal pans was an option and that spreading out the delivery drop off made it possible to serve as many employees as possible with nothing going to waste" - Mikaela Minich
PITTSBURGH (PRWEB) April 27, 2020
Southwestern Pennsylvania's leading real estate company, Berkshire Hathaway HomeServices The Preferred Realty has partnered with Adrian's Pizza of North Hills to support healthcare workers at UPMC Passavant Hospital fighting the Coronavirus Pandemic.
During this challenging and uncertain time, Berkshire Hathaway HomeServices The Preferred Realty's corporate office, located in Wexford, wanted to give back to the healthcare community that is working around the clock to battle COVID-19. The goal was to raise money that could be used to help feed the UPMC Healthcare workers. Jon Faulkner, franchise owner of Adrian's Pizza, agreed to help give back and match a portion of the donations.
Mikaela Minich, a BHHS employee who spearheaded the idea, faced some challenges when working with Adrian's Pizza to feed healthcare workers. When looking at the logistics of delivering the pizzas, "Passavant started to restrict all food coming into the building. The only way to get our pizza delivered was to have the slices individually wrapped, which was nearly impossible to do. So, we worked with Jon, looked at his menu and found that delivering personal pans was an option and that spreading out the delivery drop off made it possible to serve as many employees as possible with nothing going to waste", Minich said.
The original goal of donations was greatly surpassed, in addition to the pizzas that Adrian's was able to match. The Preferred Realty was able to deliver 360 personal pan pizzas to UPMC Passavant employees.
About Berkshire Hathaway HomeServices The Preferred Realty
Berkshire Hathaway HomeServices The Preferred Realty is a locally owned, full-service real estate company serving the Western Pennsylvania area. Our affiliation with the Berkshire Hathaway HomeServices network provides us with the most advanced technology and tools in the industry. In 2019, Berkshire Hathaway HomeServices The Preferred Realty unveiled its state-of-the-art Call Connect Program. Call Connect allows an agent to differentiate between a robocall and someone calling specifically for real estate business. This program is data-driven and allows sales professionals to create more immediate connections between clients and themselves.
For more information on Berkshire Hathaway HomeServices The Preferred Realty, please visit https://www.thepreferredrealty.com/