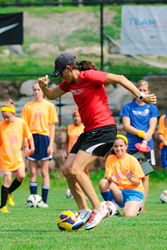 "I am excited to be returning to the Berkshire Soccer Academy with TeamFirst and on my own. We loved our experience last summer. The Academy's balanced approach is great because it builds the girls' confidence both on and off the field" - Kristine Lilly
East Otis, MA (PRWEB) April 02, 2015
The Berkshire Soccer Academy for Girls in Otis, Massachusetts announced today that current or former US Women's National Team members will be coaching at each of its six summer 2015 sessions. Five soccer legends are currently scheduled to attend -- Mia Hamm, Kristine Lilly, Tisha Venturini Hoch, Brandi Chastain and Cindy Parlow Cone. Additional visiting coaches will be announced shortly.
The Berkshire Soccer Academy is a unique soccer camp for girls that provides elite training at top-quality facilities set in a traditional camp environment. The Academy encourages athletes to train hard on the field and to then enjoy a relaxing elective activities like swimming and boating, yoga and arts & crafts; as well as to enjoy down-time with friends. Unlike most girls soccer camps, where athletes sleep in dorm rooms, Berkshire Soccer Academy athletes live in cabins that they share with 7-10 other campers as well as cabin counselors who are selected and trained to promote friendships among athletes.
The Berkshire Soccer Academy's first session (June 28 – July 2) will feature a two day appearance by Brandi Chastain, who delivered the winning penalty kick against China in the 1999 World Cup final. From July 7 – 10, Mia Hamm, Kristine Lilly and Tisha Hoch will return for a TeamFirst Soccer Academy week, the only overnight soccer camp featuring instruction by TeamFirst. Cindy Parlow Cone will be a guest coach at the Fourth Session (July 19 – 23), and Kristine Lilly will return for the Sixth Session (August 3 – 7) for a full day of coaching.
"We are committed to giving every BSA camper the opportunity to interact with a US National Team player and are delighted that five core members of the groundbreaking 1999 Women's World Championship Team will join us this summer," commented BSA Director Liza Wittenberg. "Their decisions validate our approach which infuses balance and fun into a world class soccer experience."
After spending four days at the Academy in 2014, Mia Hamm said about her experience, "The facilities are great. The staff had been fantastic. We've loved it, and we'll be back." Mia, Kristine and Tisha are making good on their promise.
Kristine Lilly remarked, "I am excited to be returning to the Berkshire Soccer Academy with TeamFirst and on my own. We loved our experience last summer. The Academy's balanced approach is great because it builds the girls' confidence both on and off the field."
Click here to watch a 3 minute video in which Mia Hamm, Kristine Lilly and Tisha Venturini Hoch discuss the Berkshire Soccer Academy for Girls.
For more information about the Berkshire Soccer Academy, visit http://www.berkshiresocceracademy.com