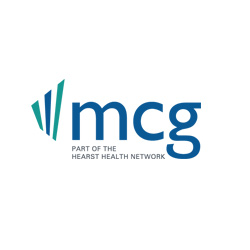 "I'm looking forward to discussing how new technology can provide the critical support that health care professionals need during a global crisis as well as in a post-pandemic future." - Bernadette Minton, MS, MCG Senior Director of Data Science Solutions
SEATTLE (PRWEB) September 22, 2020
MCG Health, part of the Hearst Health network and a leading provider of informed care strategies, announces that its Senior Director of Data Science Solutions, Bernadette Minton, MS, will join a panel of industry experts at the 2020 Population Health Colloquium which will be held virtually this year due to the COVID-19 pandemic.
Members of the exclusive panel will convene on October 6, 2020, from 3:20 PM – 4:00 PM EDT, and Ms. Minton will be joined by Yossi Bahagon, MD, the managing partner of Qure Ventures and special expert advisor to the World Health Organization; and Josh Rubel, Chief Commercial Officer of MDClone. The panel discussion will be moderated by Paul Barach, MD, MPH, the Chief Medical Officer and lecturer for the Healthcare Quality & Safety Program at the Jefferson College of Population Health. The panel's discussion will cover global health and the impact of new technologies which have become critical areas of focus since the COVID-19 pandemic erupted late last year.
Ms. Minton currently leads the team which launched MCG's first machine learning solution, Indicia for Effective Focus, which uses evidence-based guidance along with artificial intelligence to help prioritize case management workflows. Five U.S. hospital systems have already adopted the platform to help guide a patient's assignment to the appropriate level of care and identify when discharge from the inpatient setting is safe and appropriate.
Regarding her participation in the Population Health Colloquium's discussion panel, Ms. Minton said, "I'm looking forward to discussing how new technology can provide the critical support that health care professionals need during a global crisis as well as in a post-pandemic future."
This year marks the 20th anniversary of the Population Health Colloquium and will be the first time the event has ever been held virtually. Those interested in learning more or attending the online conference can register via the event website: https://populationhealthcolloquium.com/.
About MCG Health
MCG, part of the Hearst Health network, helps healthcare organizations implement informed care strategies that proactively and efficiently move people toward health. MCG's transparent assessment of the latest research and scholarly articles, along with our own data analysis, gives patients, providers, and payers the vetted information they need to feel confident in every care decision, in every moment. For more information visit http://www.mcg.com or follow our Twitter handle at @MCG_Health.
About Hearst Health
The mission of Hearst Health is to help guide the most important care moments by delivering vital information into the hands of everyone who touches a person's health journey. Each year in the U.S., care guidance from Hearst Health reaches 85 percent of discharged patients, 205 million insured individuals, 103 million home health visits and 3.2 billion dispensed prescriptions. The Hearst Health network includes FDB (First Databank), Zynx Health, MCG, Homecare Homebase and MHK (formerly MedHOK). Hearst also holds a minority interest in the precision medicine and oncology analytics company M2Gen. Follow Hearst Health on Twitter @HearstHealth and LinkedIn @Hearst-Health.