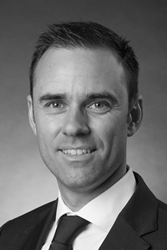 "Fides is committed to providing the best and most secure infrastructure to support its operations and its clients. I am excited to join the team and have the opportunity to drive the company's technology innovation." — Bernhard Kaiser, CIO, Fides Treasury Services
ZURICH (PRWEB) May 11, 2021
Fides Treasury Services Ltd., the global leader in multibank connectivity and communications, has announced the hire of Bernhard Kaiser as the firm's new Chief Information Officer. Kaiser will manage Fides' information technology strategy and execution, focusing on innovation to meet the changing needs of the market.
"I am pleased to welcome Bernhard to Fides and the CIO leadership role," said Andreas Lutz, CEO at Fides. "I am confident that his expertise, coupled with his passion for driving change, will guide the team in operational best practices as well as continued technology innovation."
Kaiser has almost two decades of IT experience and a strong background in payments and IT strategy as well as transforming organizations and leading global teams. In the past eight years he worked in different roles of increasing responsibility at Lufthansa / Swiss International Air Lines, most recently as Head of IT Distribution and Payment Solutions, Hub Airlines. Prior to that, he spent five years at Credit Suisse in various management positions including Head of Management Support and Reporting within Private Banking Operations.
Kaiser holds a post-graduate degree in Economics, with a focus on IT and marketing, from the Albert-Ludwig-University of Freiburg. His certifications include the ITIL v4 Foundation, KAIZEN, and Six Sigma Green Belt.
"Fides is committed to providing the best and most secure infrastructure to support its operations and its clients," said Kaiser. "I am excited to join the team and have the opportunity to drive the company's technology innovation."
ABOUT FIDES
Fides is the global leader in multibank connectivity and transaction communications, enabling corporates to connect to any bank, in any region, through any channel. With Fides, you can reach further, and connect faster. Our solutions deliver critical multibank account statement, payment workflow and reporting capabilities for treasury and finance teams, helping more than 3,500 clients communicate with over 13,000 banks and payment providers across 200 countries. Whether you are using a TMS, ERP, the Fides Multibanking Suite, or any combination, Fides is the only connectivity platform you need.