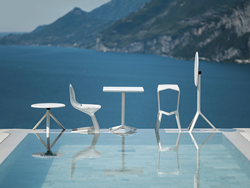 NEW YORK (PRWEB) October 05, 2020
Jerry Helling, President of Bernhardt Design, and Michael Plank, CEO of Plank, are pleased to announce the formation of Bernhardt Design + Plank in North America. Bernhardt Design + Plank is a long-term partnership between two design-focused, family-owned companies—one in America, the other in Italy, each with an aesthetic and heritage all its own. They share common values in the most important areas: the pursuit of quality, a deep appreciation for the value of design, and a commitment to innovation. Both brands have adapted to an ever-changing market through partnerships with the best designers of this era.
Helling states, "I have been searching for an appropriate European partner for a number of years and was unable find the perfect product fit and personal chemistry. We have admired Plank for many years and when I heard Michael might be open to a new relationship, I was sitting in his office the next week. In my view, this is the perfect partnership as we have the same company culture and a complementary approach to product."
Plank adds, "For an Italian design brand to still have a family dimension and a passion for hands-on committed product research and development, it was crucial to find a business partner for North America with a corresponding approach. When I was introduced to Bernhardt Design, I had an immediate feeling of synergy and the impression of a principled, professional, strong and quality organization."
Bernhardt Design + Plank is the exclusive distributor for Plank's award-winning products in North America. An extensive Fast Track program offers two-week shipment on a wide array of seating and tables. In addition to products for interior spaces, the product offering features a broad collection of outdoor furniture.
The brand will launch in North America in September 2020.
ABOUT PLANK
Plank is an Italian furniture manufacturer with a passion for the art of industrial production. Consistently innovating since 1953, Plank created a range of timeless and iconic products through the collaboration with leading designers such as Konstantin Grcic and Naoto Fukasawa. Plank chairs, lounge seating, table systems, and stools can be found in contract, residential and public spaces around the world.
Plank products have won numerous prizes and awards, such as the XXII Compasso d'Oro for the MYTO chair and the iF Product Design Award, Gold, for the MIURA stool and are part of the collections of major museums including the Museum of Modern Art (MoMA) in New York, the Design Museum in Munich and the Art Institute of Chicago.
ABOUT BERNHARDT DESIGN
Bernhardt Design was founded in 1980 by the 130-year-old Bernhardt Furniture Company and continues to be a leader and innovator in furniture design and production. During the past 20 years, President Jerry Helling has assembled an extraordinary creative team that has positioned Bernhardt Design as one of the leading international design companies with a roster of talent that includes: Ross Lovegrove (London), Arik Levy (Paris), Jaime Hayon (Valencia), Luca Nichetto (Venice), Yves Béhar (San Francisco), Patrick Jouin (Paris), Fabien Baron (New York), Monica Förster (Stockholm), CuldeSac (Valencia), Mario Bellini (Milan), Noé Duchaufour-Lawrance (Lisbon), Raleigh Denim (Raleigh), Farg & Blanche (Stockholm), Charles Pollock (New York), Claudia and Harry Washington (San Salvador), Anabela Chan (London), Océane Delain (Paris), Joe Gebbia (San Francisco), Tift Merritt (Raleigh), and Terry Crews (Los Angeles).
Setting a precedent for leadership within the corporate community, Bernhardt Design founded and annually sponsors an interdisciplinary course with the world-renowned Art Center College of Design in Pasadena, challenging students to create world-class designs for mass production. The company also sponsors the ICFF Studio, a scholarship program that provides emerging design talent exposure to manufacturers, retailers, and media from around the world.
American Design Honors, an annual award to recognize the most noteworthy American designers, was established by Bernhardt Design in 2010. Internationally, Bernhardt Design supports young designers through their sponsorship of the annual Contempo program conceived to advance the design profession in El Salvador, and America Made Me, a program to promote new brands and young American design talent abroad.