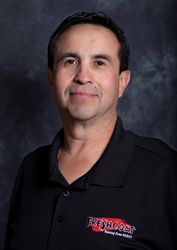 We want to earn your trust and your repeat business, which starts with making sure each customer has an awesome experience. - Bernie Mascarenaz
LINCOLN, Neb. (PRWEB) November 27, 2018
Bernie Mascarenaz is looking forward to offering a new kind of professional painting experience to the Lancaster County area with his new business, Fresh Coat Painters of Lincoln, Nebraska.
Fresh Coat offers residential and commercial painting services including interior and exterior painting, wood staining, and other services for nearly every protective coating application. They have a 24/7 receptionist, online scheduling, free detailed quotes, and they only use high-quality materials. Fresh Coat Painters of Lincoln serves all of Lancaster County.
"Painting companies don't have a reputation for being the most reliable companies and I want to change that with Fresh Coat Painters. We are committed to customer service, which means we'll answer the phone when you call, we'll be on time, we'll give you firm and detailed quotes and we'll treat your home with the respect it deserves. We want to earn your trust and your repeat business, which starts with making sure each customer has an awesome experience," Mascarenaz said.
As part of Fresh Coat's focus on service, they offer a 3-3-3 customer service pledge, so calls will be answered by a live person within three rings, a quote will be delivered within three days (customer schedule permitting) and the job will be started within three weeks. All Fresh Coat employees are specially trained, dependable and background-checked and Fresh Coat Painters of Lincoln is bonded and insured.
Mascarenaz and his wife, Misty, have 3 girls and he coached fastpitch softball for 18 years. Prior to opening Fresh Coat of Lincoln, he was a dedicated employee for a utility company for 33 years, where he was recognized as employee of the year in 2016. He knew he always wanted to invest in starting his own business and, with the support of his wife and daughters, he decided to pursue his lifelong dream of owning his own business.
He researched many franchises but none of them offered what he was looking for. Marcarenaz then reached out to a friend who owns a Fresh Coat Painters franchise and they talked about the business model and how Fresh Coat is different from the competition. That's when Mascarenaz decided to open Fresh Coat Painters of Lincoln.
"Fresh Coat Painters is a fantastic opportunity because I get to own my own business and give clients everything that they have wanted in a painting company. Our painters are professional, trustworthy, dependable and focused on making our valued clients comfortable," Mascarenaz said.
Fresh Coat was founded in 2004 as part of Strategic Franchising Systems. Since 2015, Fresh Coat has been included in the Bond's Top 100 and named to Entrepreneur Magazine's Franchise 500 list. Fresh Coat is also part of the International Franchise Association, the Small Business Association's Franchise Registry, VetFran and Minority Fran.
For more information about Fresh Coat Painters of Lincoln or for a quote for your next project, call (302)525-0097, email BMascarenaz@FreshCoatPainters.com or visit https://www.freshcoatpainters.com/lincoln/.