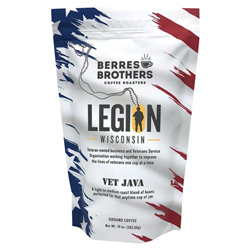 WATERTOWN, Wis. (PRWEB) May 27, 2021
In honor of Veterans across the country, Berres Brothers Coffee Roasters has dedicated one of its specialty coffee roasts to support Legion Wisconsin, a division of the American Legion focused on enhancing the lives of U.S. Veterans and their families. Through its Vet Java Coffee program, a percentage of purchase proceeds go directly to the Legion and its many programs across the state of Wisconsin.
"When people have served their country, it naturally gets in their blood," said Pete Berres, Veteran, and owner of Berres Brothers. "Legion Wisconsin is a great organization for all of us at Berres Brothers to continue serving and supporting. We want to encourage our consumers to do the same through our Vet Java Coffee."
Berres is a 22-year retired US Army Veteran, receiving his commission as a Second Lieutenant in 1988. He spent a tour in Iraq from 2008-2009 and is a Legion member, locally involved for over 10 years.
"When Veterans support Veterans towards an important cause, you get results," said Nathan Gear, department adjutant of Legion Wisconsin. "Supporting our Wisconsin Veterans has been at the core of our relationship between Berres Brothers and Legion Wisconsin. Since our first meeting, we have increased our ability to impact Veterans in need."
Under the Vet Java program, 15% of the coffee's sale proceeds go to American Legion's Veterans Affairs and Rehabilitation Committee outreach programs such as Suicide Awareness, Homeless Vets Task Force, VA Hospitals and Clinics, Cremated Remains Task Force, Camp American Legion, and the Department Service Office.
The Vet Java Coffee is a medium roast and one of Berres Brothers' smoothest blends. Ranging from $9 to $12 depending on retailer, it comes in 10 oz ground coffee bags and is available online.
To purchase Vet Java Coffee online this Memorial Day or learn more about the program, visit BerresBrothers.com or follow along on Facebook and Instagram.
###
About Berres Brothers Coffee Roasters
Providing coffee since 1970, Berres Brothers Coffee Roasters has one simple vision: to make great coffees that create a vacation from the ordinary. Veteran- and family-owned, Berres Brothers prides itself on producing astonishingly smooth, consistent coffees that add a little flavor to each drinker's day. Berres Brothers offers over 50 coffees and more than 40 unique flavored varieties that fit each coffee connoisseur's preference. For more information, visit BerresBrothers.com or follow along on Facebook, Instagram, Twitter, or Pinterest.
MEDIA CONTACT
Chelsey Barnes
Public Relations Specialist, Element
chelsey (at) goelement (dot) com