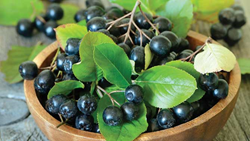 "Through ongoing research, Aronia is poised to be the next big ingredient for cardiovascular support," says Melanie Bush, Chief Science Officer at Artemis International.
FT. WAYNE, Ind. (PRWEB) February 11, 2019
Just in time for AHA's Heart Health Month, Aronia berries are making a splash in the nutraceutical ingredient space for their cardiovascular health benefits. Artemis International, the Berryceuticals® specialist, recently cemented a new partnership with its BerryDark™Aronia 15% ingredient and Weider's recently introduced Artery Health formulation, which coincides perfectly with the annual buzz around heart health in the month of February. Artemis International is on course to become the industry leader in supplying supplement and food/beverage manufacturers with Aronia extract, powders, and concentrates from the company's portfolio of flavonoid-rich antioxidant ingredients.
Weider, having reviewed all the science surrounding aronia berry, introduced the new Artery Health supplement formulated to support healthy heart function by keeping arteries flexible through proper calcium transportation and increased blood flow. Artemis' BerryDark® Aronia is a key ingredient in Weider's Artery Health formulation, helping to ensure its customers maintain proper cardiovascular health.
Actively supporting the emerging niche for Aronia-based nutraceutical ingredients, Artemis International is promoting their line of Aronia Berryceuticals and partnering with other manufacturers in product development featuring Aronia in their formulations.
"Through ongoing research, Aronia is poised to be the next big ingredient for cardiovascular support," says Melanie Bush, Chief Science Officer at Artemis International. "Aronia has been gaining traction for several years, but this antioxidant powerhouse has garnered increasingly more scientific back up to support the claims around the cholesterol-lowering, blood pressure-lowering, anti-inflammatory, and circulation-promoting benefits of the Aronia flavonoids."
For example, Artemis International's Aronia berry extract was used in a human clinical trial where the researchers concluded that 12 weeks of supplementation with the Aronia extract resulted in significant reductions in total cholesterol and LDL cholesterol in former smokers. Cholesterol is just one of the markers of heart health that Aronia has been shown to positively influence.
"Supporting our goal of being leaders in producing and offering scientifically validated berry ingredients, Artemis International was the first nutraceutical ingredient supplier to feature Aronia berry as a key ingredient offering in its portfolio for the US market," says Leslie Gallo, President of Artemis International. "Artemis launched the first Aronia-dedicated web site back in 2015 (http://www.aroniahealth.org). We will be working to make 2019 a breakout year for Aronia and bringing 'The Flavonoid Superstar' into mainstream awareness and acceptance by consumers."
Artemis Berryceuticals® are science-supported nutraceutical ingredients sourced from darkly-pigmented flavonoid-rich berries in the form of extracts, powders, concentrates and blends for use in food and beverage, dietary supplement and cosmeceutical industries. The company was on the forefront of the boom in elderberry during the 2017-18 flu season, and while elderberry remains the most well-known dark berry extract for this reason, the company continues to look to the future, which shines brightly for Aronia Berryceutical ingredients, according to Gallo.
Artemis International will be exhibiting at Natural Products Expo West, Booth #3561.
Founded in 1995 by Jan Mills, the woman-owned Artemis International, Inc. has become a leader in science-driven flavonoid rich, berry-based nutraceutical ingredients for use in the dietary supplements, food and beverages, and cosmeceutical industries. Artemis International launched the Berryceuticals® brand to categorize and create a clear market position for its wide range of berry-based extracts, including Elderberry, Aronia, Cranberry, Blueberry, Cherry, and Black Currant.