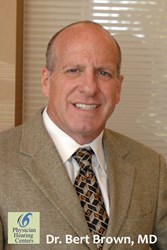 Cleveland, Ohio (PRWEB) October 15, 2013
Dr. Bert Brown has recently announced the introduction of website for his Ear, Nose, and Throat (ENT) patients to better connect with him online. The website at bertbrown.me features links to social media and directory sites where readers can find up-to-date information about Dr. Brown. The website also has review links where current patients can post a review and potential patients can read online reviews before making an appointment.
Deeply connecting with patients is own of Dr. Brown's primary goals for his practice. The new website helps to accomplish that goal by giving Cleveland-area residents additional avenues to contact Dr. Bert Brown. Compared to other local ENTs and Audiology clinics, Dr. Brown feels that he is on the leading edge of using social media in his practice.
Dr. Brown's reputation for offering the best patient care and service is well-known among his colleagues and his patients. The Physician Hearing Centers practice is unique in that each office has both a Doctor of Audiology and an ENT Physician on staff. This pairing of audiology and otolaryngology benefits patients because they no longer have to be referred to a specialist outside the office to treat any medical conditions that are affecting their hearing.
The two Physician Hearing Centers offices in Macedonia and Mayfield Heights serve patients coming from Cleveland, Euclid, Willoughby, Mentor, Beachwood, Pepper Pike, Cuyahoga Falls, and Moreland Hills and down south as far as Twinsburg and Hudson. The Macedonia location boasts a state of the art Sound Experience Room™ (SER™) designed and developed by Dr. Bert Brown.
Dr. Brown recognizes that each and every patient is unique and his practice is built upon this premise. Every single patient has the opportunity to receive individualized care and service.
Bert Brown has recorded 13+ videos on YouTube complete with video transcripts so current and potential patients have the opportunity to get to know him on a more personal level.
About Dr. Bert Brown, MD (ENT)
Dr. Bert Brown devotes his career to serving people with hearing impairment. He has been a practicing Ear, Nose, and Throat physician for over 25 years and is the developer of the SER™ Fitting Room. Dr. Brown studied medicine at University of Cincinnati College of Medicine and completed his residency in Otolaryngology at the University of Pittsburgh Medical Center.
Patients can make an appointment with Dr. Brown through Physician Hearing Centers.
Contact:
Dr. Bert Brown, MD
Physician Hearing Centers
6770 Mayfield Road, Suite 210
Cleveland, Ohio 44124
(440) 550-4179
Physician Hearing Centers
640 East Aurora Road
Macedonia, Ohio 44056
(330) 400-3916