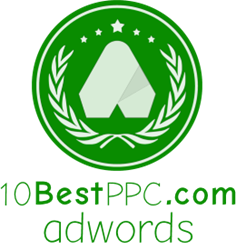 BALTIMORE, M.D. (PRWEB) February 16, 2016
10 Best PPC—a division of San Francisco-based 10 Best Network, LLC—recently recognized Jellyfish, Galaxy Weblinks, and Hanapin Marketing in its "Best AdWords PPC Management Firm" category. Such an honor is the result of evaluating and ranking agencies based on their effectiveness with clients regarding their Google AdWords marketing efforts.
Consisting of experts who are well versed in all things pay-per-click (PPC) advertising, 10 Best PPC uses a host of qualitative and quantitative ranking points to determine the top AdWords PPC company. This ranking is especially significant, since Google AdWords is the premier Internet ad platform for boosting online visibility and reputation with search engines.
Jellyfish, which has the #1 spot on the list of best AdWords PPC management firms, is headquartered in Baltimore, Maryland. Around since 1999, Jellyfish has gained its strength from its robust suite of services, which, in addition to AdWords PPC, include search engine optimization (SEO), social media marketing, web analytics, conversion rate optimization (CRO), and display advertising. It is also renowned for its reach; it has five offices in addition to its Baltimore headquarters (New York, San Francisco, Reigate and Brighton in the United Kingdom, and Durban in South Africa). Jellyfish's clients have included Carfax, Skype, Fitbit, BMW, Electronic Arts (EA), Nestle, and Royal Caribbean International.
Galaxy Weblinks, which is ranked #2, is based in Cambridge, Massachusetts, with a second office in Oregon to accommodate clients based in the Pacific Northwest. Much more than just a top AdWords PPC firm, Galaxy Weblinks also offers marketing methods and tools like SEO, Google analytics, and responsive email design. Galaxy Weblinks also designs websites for clients, whether it is ecommerce-oriented or budget-friendly for small and medium-sized businesses. Its clients have included Columbia University, RE/MAX, Caffei Nation, Eventalo, Children's Manor Montessori School, and GoTotheMars.
Another leading Adwords PPC management firm is Hanapin Marketing, which rounds up the top 3 winners. The company is based in Bloomington, Indiana. It is a close contender of PPC Hero, which is reputed to be the foremost PPC industry blog, as well as Hero Conf, which is the premier annual PPC conference series. A frequenter of the Inc. 5000 list as one of the country's fastest-growing private companies, Hanapin Marketing also offers services like display advertising, remarketing, conversion rate optimization (CRO), mobile and social media advertising, and lead generation. Clients have included The Weather Channel, Icelandair, Angies List, Shoe Carnival, and The Home Depot.
For more information, visit http://www.10bestppc.com.