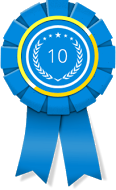 SAN FRANCISCO, Calif. (PRWEB) May 25, 2017
Blue Fountain Media, Y Media Labs, and Big Drop Inc were recently chosen by 10 Best Design as the top three companies in its May 2017 Best App Design Firm awards.
As part of San Francisco-based 10 Best Network LLC, 10 Best Design is dedicated to provide rankings and reviews on the web design and development and online branding segments. The platform uses an analytic review algorithm that combines qualitative and quantitative ranking points; it involves compiling and evaluating data from sources such as reviews, awards organizations, website traffic, and client research and online research.
At the top of the list of leading iPhone app companies is Blue Fountain Media, a digital agency based in New York City. It earns the prime spot due to its high level of acclaim from both clients and industry experts. Developing web and mobile apps is just one of many services that Blue Mountain provides; as a full-service digital agency, it also offers search engine optimization (SEO), pay-per-click (PPC) marketing, website design, content strategy and copywriting, and social media marketing. Blue Mountain Media's clientele has included AOL, the NFL, NASA, Sony, Walt Disney, AT&T, and the New York Yankees. It is recognized as a top digital agency by not just 10 Best Design, but also by organizations like the Interactive Media Council, the Awwwards, and Top Interactive Agencies.
Located in Redwood City, Calif., Y Media Labs makes the list at No. 2 due to its sterling reputation for developing custom apps as well as its demonstrated high level of skill in handling API elements for defining the backend of mobile and desktop apps. As part of its role as a top app design firm, Y Media Labs also optimizes apps for web browsers on operating systems like Windows.
Number three on the list is Big Drop Inc, which 10 Best Design highly considers to be a leading iPhone app firm. Big Drop Inc focuses on developing apps for use on mobile devices that include smartphones and tablets. Big Drop Inc also develops apps for Android devices. Coincidentally, it is located in New York, at the epicenter of the United States.