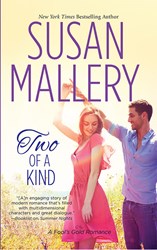 Gideon has to overcome his demons in order to find happiness in his life. He has to learn that love doesn't weaken, it empowers.
Seattle, WA (PRWEB) November 13, 2013
Two of a Kind by Susan Mallery has been nominated by RT Book Reviews magazine for a Reviewers' Choice Best Book Award in the category of Contemporary Romance Novel—Love and Laughter. Two of a Kind is part of the bestselling author's popular series of Fool's Gold romances, and features a socially awkward heroine with a genius-level IQ who wants nothing more than to fit in.
"I adore Felicia," Mallery says, "and I'm thrilled that readers seem to love her as much as I do. She was a tough character to write because she lives in her head. She analyzes everything in her effort to figure out what 'normal' people would do and say, so that she can fit in. Fortunately, she moved to Fool's Gold, a place that embraces weirdness. For the first time in her life, Felicia is loved for who she is."
Although the book is up for an award in the Love and Laughter category, it deals with issues of substance. In Two of a Kind, Felicia is paired with Gideon, a veteran who was emotionally scarred from his time as a prisoner of war while in Special Forces. He wants to be left alone, she wants to fit in.
"Gideon watched his colleagues die while they were held prisoner, and he thinks it's because they were weakened by longing for loved ones back home. He had no one, and he survived," Mallery says. "Comedy works best when the emotions are real. Felicia and Gideon—and all of my characters—become real people to me and, if I've done my job, to my readers. Gideon has to overcome his demons in order to find happiness in his life. He has to learn that love doesn't weaken, it empowers."
Two of a Kind debuted at #8 on the New York Times bestsellers list for mass market paperback books, #9 on the NYT list for ebooks, and #7 on the USA Today bestsellers list. In July, Amazon praised Two of a Kind as a Best Book of the Month in romance novels. Read a free excerpt at http://www.SusanMallery.com.
About Susan Mallery:
With more than 25 million books sold worldwide, New York Times bestselling author Susan Mallery is known for creating characters who feel as real as the folks next door, and for putting them into emotional, often funny situations readers recognize from their own lives. Susan's books have made Booklist's Top 10 Romances list in four out of five consecutive years. RT Book Reviews says, "When it comes to heartfelt contemporary romance, Mallery is in a class by herself." With her popular, ongoing Fool's Gold series, Susan has reached new heights on the bestsellers lists and has won the hearts of countless new fans.
Susan grew up in southern California, moved so many times that her friends stopped writing her address in pen, and now has settled in Seattle with her husband and the most delightfully spoiled little dog who ever lived. Visit Susan online at http://www.SusanMallery.com.