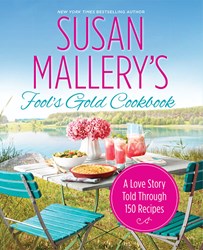 Publishers Weekly calls the Fool's Gold Cookbook "...a work of happenstance and culinary delight, a love story woven into a collection of delectable seasonal recipes.
New York, NY (PRWEB) November 12, 2013
Readers on Goodreads, a popular social media website for book lovers, have nominated Susan Mallery's Fool's Gold Cookbook as the Best Cookbook of 2013. The Fool's Gold Cookbook, which was released in September, features 150 recipes, plus an exclusive novella by the New York Times bestselling romance author.
Publishers Weekly calls the Fool's Gold Cookbook "...a work of happenstance and culinary delight, a love story woven into a collection of delectable seasonal recipes... Each recipe moves Ana Raquel and Greg closer and closer together, freeing them of their past and offering them an opportunity to rediscover one another. Mallery invites readers to try out mouthwatering creations as their serendipitous love story unfolds."
"Love makes everything taste better," Mallery says, "so it seemed appropriate to include a romance in the cookbook. The story is a gift to my longtime readers, and sort of an appetizer for people who haven't yet discovered Fool's Gold."
The recipes are organized by season. In the Spring section are recipes for light meals such as sandwiches and seafood recipes. In Summer, recipes for warm weather meals such as salads – including Mallery's Life-Changing Guacamole. In the Fall section, Mallery includes breakfast and brunch recipes, as well as recipes for hearty soups and slow cooker dishes.
"I also included casserole recipes in the Fall section," Mallery says. "In Fool's Gold, casseroles are the appropriate way to celebrate and to commiserate. It's a small town that loves its casseroles!"
The Winter section of the Fool's Gold Cookbook is comprised of comfort food recipes such as the Rosemary Roast Pork Loin (below), and seasonal recipes to celebrate the holidays.
Rosemary Roast Pork Loin
1 boneless pork roast (about 2 ½ pounds), tied
Salt and black pepper
4 large cloves garlic, minced
2 tablespoons chopped fresh rosemary, divided, plus several fresh rosemary branches for pan
4 tablespoons olive oil, divided
6 small red onions, peeled
1. Preheat oven to 400F. Pat roast dry with paper towels; season with salt and pepper. In small bowl, combine garlic, 1 tablespoon chopped rosemary and 2 tablespoons of the oil. Spread mixture all over roast.
2. Warm remaining 2 tablespoons oil in large heavy ovenproof skillet (preferably cast iron) over high heat. Add roast, fat-side down; cook until browned, about 3 minutes. Rotate roast one-quarter turn and brown, about 2 more minutes. Repeat process until roast is well-browned. Using tongs, lift roast off pan; slide rosemary sprigs underneath. Set roast, fat-side down, on top of sprigs.
3. Cut off a slice on the bottom of each onion so it can sit flat. Using a small knife, make 2 vertical cuts about halfway down through each onion. Push the remaining chopped rosemary into cuts; sprinkle with salt. Arrange onions around roast in pan.
4. Place skillet in oven; roast 30 minutes. Remove skillet; using tongs, turn pork fat-side up. Roast 15 to 20 minutes longer, until an instant-read thermometer registers 145F. Transfer roast to cutting board; let rest 10 minutes. Thinly slice; serve with onions.
To learn more about Susan Mallery's Fool's Gold Cookbook, and to find free recipes online, visit http://www.SusanMallery.com.
About Susan Mallery:
With more than 25 million books sold worldwide, New York Times bestselling author Susan Mallery is known for creating characters who feel as real as the folks next door, and for putting them into emotional, often funny situations readers recognize from their own lives. Susan's books have made Booklist's Top 10 Romances list in four out of five consecutive years. RT Book Reviews says, "When it comes to heartfelt contemporary romance, Mallery is in a class by herself." With her popular, ongoing Fool's Gold series, Susan has reached new heights on the bestsellers lists and has won the hearts of countless new fans.
Susan grew up in southern California, moved so many times that her friends stopped writing her address in pen, and now has settled in Seattle with her husband and the most delightfully spoiled little dog who ever lived. Visit Susan online at http://www.SusanMallery.com.