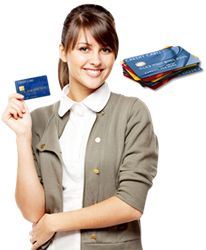 Credit Help Cards is in the business of making sure that bad or no credit consumers can start fresh with a new card
Boca Raton, FL (PRWEB) August 26, 2013
One of the ways to build good bank reputation these days is to maintain a quality credit card. Not only is a major card handy when it comes to emergencies and necessities, it is often required for travel. Rental cars, hotels, entertainment reservations and other businesses expect to have a card on record to hold your spot, even if cash is used for the actual payment. It represents the bond for payment and without it a person could find that some things are impossible. Credit Help Cards makes it possible for all applicants to be approved for the card of their choice.
This popular new business is number one when it comes to making sure that bad or no credit consumers can start fresh with a new card. This provides a chance to build good credit, which can lead to bigger and better opportunities for bank or loan related purchases. CHC has been a great help to many who have run out of options for securing a major card and have successfully won the confidence of those who have used their services.
About Credit Help Cards
CreditHelpCards.com is the leading credit card finance provider in the USA, fully dedicated to help its customers acquire a credit card regardless of credit history. They design and develop customized "no credit" cards, "bad credit" cards, and "good credit" cards. Voted the best for "Quality Customer Service; Best National Credit Cards Service" by thousands of people, their finance experts focus on providing their customers information and various tools available for different card offers, and help them to choose the best that fits their goals and needs.