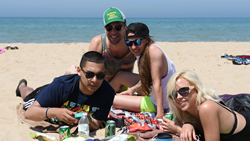 I think it's a really good thing to not have drugs or alcohol clouding up your mind when you go out on a day like today
Manistee, Michigan (PRWEB) June 15, 2016
Best Drug Rehabilitation, a holistic treatment center for substance abuse located in Manistee, MI, observed this past Memorial Day holiday with a day trip to the shores of nearby Lake Michigan. The recovery center filmed the day's festivities and has produced a highlight video, which can be viewed on the Best Drug Rehabilitation YouTube channel, to preserve this memorable occasion.
"True recovery from addiction is much more involved than just quitting drugs or drinking," commented Best Drug Rehabilitation founder Per Wickstrom. "From repairing physical damage, to handling reemerging emotions, to uncovering and addressing the underlying causes of the patient's addictive behaviors, overcoming addiction is no easy task. Taking some time away from the process to relax and unwind is extremely beneficial for our patients. It allows them to return to their program with a fresh set of eyes and a clear mind, and to address it in a more effective manner."
Memorial Day, which fell on Monday, May 30 this year, is a national day of observance for the sacrifice made by our fallen soldier in defense of freedom and the American way of life. The staff and patients from Best Drug rehabilitation could think of no better way to honor those brave men and women than enjoying the very freedom that they fought to provide. With a traditional cookout, which of course included hamburgers and hot dogs, they spent the day in the warm sunshine, playing volleyball, wading in the water, and enjoying each other's company.
Sober Fun at Best Drug Rehab
"I think it's a really good thing to not have drugs or alcohol clouding up your mind when you go out on a day like today, and have fun and enjoy the holidays," said Jamie Rossi, the Director of Training at BDR. "Everybody's not drinking and people aren't using drugs – they see that 'Hey, we can have fun. We can enjoy life. This is what life really is.'"
The patients were also celebrating their own newfound freedom from the addictions that led them to seek the professional help of the treatment center. Their past struggles with substance abuse, and their subsequent journey through the recovery process, are somewhat similar to that ultimate sacrifice made by our fallen military members – a sort of death to their old way of life and a rebirth into a way of life that is more peaceful and positive.
The unique Best Drug Rehabilitation substance abuse treatment program is designed to be adaptable to any individual in need of help with overcoming their addiction. With a wide variety of program options to choose from, patients are able to find the path to recovery that will work best for them. The BDR recovery strategy focuses on healing the individual as a whole, rather than just getting clean and sober, and encourages a complete lifestyle transformation that will enable them to remain substance-free after they complete their rehabilitation program and return to daily life.
Blog: http://www.bestdrugrehabilitation.com/blog/video/a-day- at-the- beach-best- drug-rehabilitation-celebrates- memorial-day/