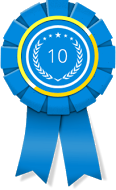 NEW YORK, N.Y. (PRWEB) August 29, 2017
In its latest round of monthly awards, 10 Best Design has named Blue Fountain Media, Ruckus Marketing and Arhue as the Best Drupal Web Design Firms for August 2017. This is a new award for 10 Best Design.
In recent years, 10 Best Design has established itself among the most important organizations that honor web design firms through awards. Monthly, this group of experts singles out prime firms that demonstrate the best in web design outfits. Established in 2012, 10 Best Design emphasizes honorees' exceptionalism. Its awards present the top 10 outfits in a given field, such as small business web design or corporate web design. Firms that have been recognized by this trusted organization have risen to prominence.
10 Best Design's Best Drupal Web Design Firm award is significant because it honors firms that deftly produce sites using Drupal, which is an open-source framework for content management. Drupal's development community has over 100,000 contributing members, so 10 Best Design's new honor clearly recognizes the leading talents in a vital field. Businesses that want to hire a top Drupal website design company to build a new site can use 10 Best Design's new award to gain a head start on their competitors.
Among the top-reining firm on this month's list of Drupal winners is Blue Fountain Media. A New York-based top Drupal web design firm, Blue Fountain Media has worked with big brands and future leaders to develop sites that draw positive attention. Brands that use Blue Fountain Media gain efficiency from finding other web services among this Drupal developer's offerings.
Also located in New York City, Ruckus Marketing made the new list of Drupal icons. As a leading Drupal web design company, Ruckus Marketing uses the content-management framework to its maximum potential, and it has won clients' hearts through diverse design skills and the ability to manage every aspect of an online marketing campaign.
Additionally, San Francisco's Arhue made 10 Best Design's latest list of best Drupal web design firms. Arhue became a Drupal champion by using the platform to build impressive sites for a wide client spectrum. This stellar outfit offers a long list of diverse services that can raise a brand's online profile with search engines and social-media users.
To stay knowledgeable about Drupal innovators, check out 10 Best Design's new list of winners each month. Or to learn more about 10 Best Design's August winners, visit http://www.10bestdesign.com.