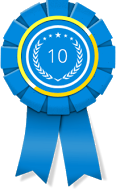 NEW YORK, N.Y. (PRWEB) August 23, 2017
10 Best Design is excited to announce the award winners in its Best eCommerce Web Design Firm category for August 2017, naming Big Drop Inc and Blue Fountain Media as the top honorees.
10 Best Design is an organization made up of web design and development professionals from all over the nation. Their skills and talents allow them to quickly identify the leading website design agencies, helping businesses worldwide choose the right one for their needs. They recently launched the Best eCommerce Web Design Firm awards, which highlight excellence in the field of eCommerce website design. Following are details about some of the winners of this month's award.
Based in New York, Big Drop Inc was recognized as the best eCommerce website design agency for the month of August. The company stands out from the rest of the crowd by constantly bringing innovative solutions to the eCommerce website creation industry. As a top eCommerce web design firm, Big Drop Inc has the ability to create new online stores from scratch as well as to redesign existing websites to improve their appearance and functionality. Big Drop Inc is one of the most reputable eCommerce website design agencies in the nation. They have received numerous awards over the years for the quality of their website portfolio, and their work has been mentioned in some of the leading digital marketing and online commerce publications.
It's not surprising that Blue Fountain Media was recognized as one of the best eCommerce website design agencies. Blue Fountain Media is a company that recognizes that the online retail world has changed significantly in the last few years. This is why they offer solutions allowing businesses to stay on top in today's highly competitive environment. The eCommerce websites they create for their clients are optimized to deliver a world-class shopping experience to every visitor. They accomplish this by combining creative website designs with solid technical knowledge. This results in an eCommerce website that is not only visually appealing, but also contains all the elements required to increase conversions for business owners.
Based out of New Jersey, Dotcomweavers is a leading eCommerce website design agency serving the top brands from all over the world. They have over a decade of experience in the industry, having worked with some of the leaders in the retail, business-to-business, food and beverage, agriculture, and automotive industries. Many of their clients have reported highly positive results after getting a new eCommerce design created by their team, such as spectacular increases in website visitors, brand recognition and sales.
For more details about 10 Best Design's August winners, visit http://www.10bestdesign.com.