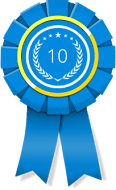 NEW YORK, N.Y. (PRWEB) April 24, 2017
Awards organization 10 Best Design has selected the latest winners of its monthly award for Best eCommerce Web Design Firm. For April 2017, Big Drop Inc was chosen as the top honoree in this category.
10 Best Design is a growing awards organization that aims to promote quality website design by rewarding companies that have shown true talent, ingenuity and skill through various website design project types, including eCommerce. Any business that wants to sell products or services online needs a website that is not only visually attractive but also functional and secure. 10 Best Design makes it easier than ever before to find the leading eCommerce web design company by introducing a new monthly award in the field of eCommerce web development. Following is a description of all of the winners of the Best eCommerce Web Design Firm Award for April 2017.
Big Drop Inc was ranked at the top of the list of leading ecommerce web design companies for April 2017. As a boutique IT services agency specializing in eCommerce website design and development, Big Drop Inc gives each client the personalized attention they deserve while working on their project. They serve mostly businesses in the New York City area, but will gladly work with clients from all over the world. They have a team of eCommerce web development specialists that can take on any type and size of project. As online shopping solutions experts, they can create complete online shops from scratch, but also have the ability to integrate an eCommerce shopping cart with a company's existing website or WordPress blog. Big Drop has the ability to work with a variety of shopping carts and eCommerce platforms, including Magento and WooCommerce.
Blue Fountain Media has several years of experience creating profitable, highly secure, functional and versatile eCommerce websites. As a top ecommerce web design firm, Blue Fountain Media has knowledge and expertise goes beyond simply designing online shops. They can provide quality advice about online shop security and help their clients set up their payment portals in a way that ensures redundancy, which prevents lost sales due to payment processor downtime. Over the years, they have worked with eCommerce entrepreneurs launching their first online store, as well as with established companies that have operated retail outlets for decades and who want to open up shop in the online world. This firm's designers and developers have also created several mobile shops that are optimized for smartphone and tablet users.
To learn more about the award winners for April, visit http://www.10bestdesign.com.