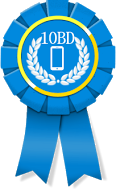 SAN FRANCISCO, Calif. (PRWEB) February 18, 2016
10 Best App is pleased to announce the arrival a new monthly award category: Best Fitness App. The February Best Fitness App award is designed to acknowledge innovative businesses that have devised apps which enable people to make the most of the time they spend exercising. The following apps topped the list of award winners: StrongLifts5x5 Fitness, Fitmo Fitness and Spring Moves Fitness.
StrongLifts5x5 Fitness, a top cell fitness application, is based on one exercise format: the 5x5. This workout format was created to help people maximize their efforts to gain strength and weight. The exercise format involves five distinct exercises, and each one includes the performance of five reps. The exercises are spread across two days. For workout A, app users complete the overhead row, bench press, and squat. For workout B, users complete the deadlift, overhead press, and squat. The workout format involves completing activity three times a week. The app will provide detailed information regarding how much weight should be used and the length of breaks. Additionally, the app enables users to track their progress over the course of time.
Another leading fitness app, Fitmo Fitness, is an application that functions the way a personal trainer would. Users can download this app and then complete a profile that will incorporate listing wellness goals so they can be realized. App users will also get to select the personal trainer of their choice. The personal trainer is available through video chat and messages, thereby, building relationships and enabling the user to provide detailed information regarding her or his fitness objectives, areas of weakness and health concerns. The device is wearable, and users can track their activity regularly. An added bonus of the app is that users can attain a free seven-day trial for simply signing up.
Spring Moves Fitness is perhaps the most distinctive of the top-notch fitness apps on the list of award winners, as it enables the user to enjoy great music during exercise. As the music plays, the app will track physical activity. Runners and walkers will find the app particularly useful when they want to track their level of activity. Additionally, individuals who rely on music to overcome feelings of lethargy and boredom will love the app.
For more information, visit http://www.10bestapp.com.