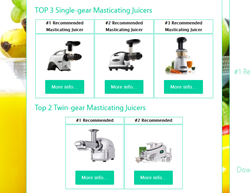 Inactivation of nutrients by heat and oxidation can be avoided by using a high-quality juicer
Los Angeles, CA (PRWEB) November 20, 2013
There are many types and brands of juicers. But what is the best juicer to buy? Are masticating, triturating or centrifugal juicers the best? The newly published list of TOP 10 Juicers from http://FreeJuicingRecipe.com/ provides answers to the above questions and ensures consumers find the most suitable juice extractor based on their juicing needs.
Differences between masticating and centrifugal juicers explained:
Due to the cheap price tag, centrifugal type of juice extractors remain the most popular. However, the best suited juicers for those who wish to harness the maximum health benefits of juicing are the masticating type. Centrifugal type works fine for fruit juicing, but for people planning on juicing vegetables and green leaves, single-gear masticating and twin-gear triturating types are far better options.
The 10 Benefits of Best Masticating Juicers describes in detail, the PROS and CONS of the major categories of juicers. The main culprit for the relatively low nutritious value of juice from centrifugal juicers is their ultra-fast spinning cutting blade/grating disk. Compared to the slow crushing and pressing gear rotating at 80-110 rpm (revolutions per minute) on masticating juicers, the grating disks of centrifugal machines spin at as much as 6,500-15,000 rpm. Unfortunately, the higher speeds generate more heat, more frothing both of which destroy important nutrients that are sensitive to heat and oxygen. Fruits and vegetables contain 1000s of phytonutrients including, but not limited to various enzymes, anti-oxidants, carotenoids, flavonoids, resveratrol, trace-minerals, cancer-fighting phytochemicals etc. For maximum health benefits of juicing, one must try to extract as much of them as possible and then preserve as much of it as possible until consumption. This is best achieved using a cold-press masticating juicer than a centrifugal type. The full scoop on the differences between the two types can be found on http://FreeJuicingRecipe.com/Masticating-vs-Centrifugal/.
Two major sub-types of masticating juicers described:
There are 2 types of masticating juice extractors. They are, the single-gear version and the twin-gear version. Twin-gear juicers, also known as triturating juicers, are more efficient at extracting volume and nutrients out of the fruits and vegetables, however, they're considerably more expensive than the single-auger extractors. Unless the buyer plans on juicing on a weekly or daily basis, investing on an expensive high-end juicer cannot be justified and not necessary for most families.
The 5 BEST Masticating Juicers lists the most popular models in today's marketplace. They're all very durable and have major benefits over mediocre models. The best models come from brands like Omega, Breville, Green Star and Super Angel. Even if the best ones are a couple dozen dollars more expensive than an 'average' model, buying a reliable model is highly recommended because they are very durable with manufacturer warranties going up to 15 years.
In addition to best juicer reviews, they also have free information on juicing, juicing recipes and juicing books. These are available in free downloadable formats and are recommended for anyone interested in learning more about the juicing lifestyle and health benefits.