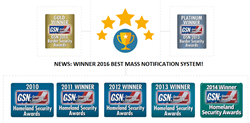 The vendor companies and government agencies working in Airport, Seaport, Rail and Border security and participating in this program are cutting edge leaders both nationally and internationally, GSN Judge Chuck Brooks
Chatham, New Jersey (PRWEB) June 10, 2016
Desktop Alert, Inc., the leader in net-centric alerting and interoperable emergency communication, today announced its patented 'less than one minute' alerting platform has been awarded Best Mass Notification System.in the coveted GSN 2016 Airport, Seaport, Border Security Awards Program.
Now In its 7th year of saluting the top leaders in new technologies and innovative security strategies, GSN is pleased to announce the Winners and Finalists in the 2016 targeted Airport, Seaport, Border Security Awards Program.
"This is a highly targeted program," said lead judge Chuck Brooks. "Dealing with very serious national and international threats in land, sea and air that are in the news every day. The vendor companies and government agencies working in Airport, Seaport, Rail and Border security and participating in this program are cutting edge leaders both nationally and internationally."
"We are highly honored by the award and recognition. Our companies repeated accomplishments and increased rapid selection by the United States most premiere line of defense military and civilian organizations is entirely based on our notification platforms past performance reports and highly affordable life-cycle sustainability costs. Desktop Alert delivers a proven best-of-breed total mass notification solution that is compliant with Department of Defense requirements and now serving over two million end-users daily," said Howard Ryan, Founder of Desktop Alert Inc.
About Desktop Alert https://www.desktopalert.net
Desktop Alert is a leading provider of enterprise mass notification and emergency communications to the United States Department of Defense, federal government and First-Responders around the world. Its innovative and patented software has been internationally recognized as a "Best Mass Notification" and "Best First Responder Interoperable Communications" system. Desktop Alert provides a suite of scalable, flexible, and adaptable communication, collaboration, and situational awareness tools in environments ranging from austere - no terrestrial infrastructure support - to fully modern with extensive IP and legacy system integrations. Desktop Alert optimizes the communications flow with timely, accurate information to ensure effective decision making, coordination, proactive community engagement, and public awareness.