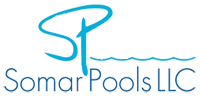 What an honor to see a Somar Pool custom design featured in the Miami New Times. It's a privilege to bring this beauty to the Nautilus Hotel, and I am grateful to continue my passion of serving Miami Beawith excellence, says Mario Ramos of Somar Pools.
Hallandale Beach, FL (PRWEB) June 30, 2016
Somar Pools of Hollywood, Florida recently designed and constructed a custom hotel pool that was voted as Best Pool on South Beach by the Miami New Times. Mario Ramos, owner of Somar Pools, led the design for the 1,890 square foot pool, which was part of a recent revamp at the Nautilus Hotel under the Sixty Hotels Group. The featured pool is a heated saltwater pool with an underwater sound system and pool bar. Somar Pools is also on-site daily to ensure the water quality is top notch and that the pool remains in pristine condition.
Somar Pools serves Miami, Fort Lauderdale, and the Caribbean with a unique approach to pool construction and maintenance. Led by owner Mario Ramos, a team of highly skilled pool contractors creates concrete swimming pools and spas of many shapes and sizes, from traditional to contemporary. An array of pool surfaces is available for remodeling or customization, including quartz, pebble, and pebble tec.
"What an honor to see one of Somar Pools' custom designs featured in the Miami New Times. It's a privilege to bring something new to the beautiful space at the Nautilus Hotel, and I am grateful for the opportunity to continue my passion of serving Miami Beach with excellence," says Mario Ramos of Somar Pools.
About Mario Ramos and Somar Pools:
In an effort to change the way in which pools are cared for, Mario Ramos created Somar Pools after 15 years of working in his family's pool business in the Northeast. Mr. Ramos's entrepreneurial spirit and love for warm weather led him to South Florida to begin his own pool company. With a passion for excellence and service, he has worked on some of the most elaborate pools in the world, including the island of Anguilla, the British West Indies, and other Caribbean locations. Mr. Ramos enjoys guiding his team of pool contractors with extensive insight and hands-on expertise from start to finish. Handling every aspect relating to pool service and construction, Somar Pools is Miami's premier pool builder.
Somar Pools provides pool construction and repairs, along with pool remodeling, pool decking, and automation solutions for commercial and residential customers. With a variety of pool designs and materials, pools can be custom constructed using a full-scale 3D overview of the pool before completion.
If you are interested in discussing pool design and construction, or pool service and repairs in South Florida, please contact Somar Pools today at somarpools.com or by phone at (305) 767-7755 (Miami area).