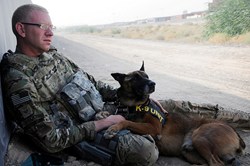 We've noticed a lack of resources focused on financial products for military families and their specific needs, which is why we have created this list.
Los Angeles, CA (PRWEB) July 16, 2013
Today's United States military personnel totals over 1.4 million, according to the most recent Department of Defense report. While a small percentage of the total U.S. population, these courageous individuals have unique banking needs which can't always be addressed by traditional financial institutions. In a continued effort to provide helpful financial information to our nation's military personnel, and as part of their Financial Freedom series, personal finance website GoBankingRates.com releases their list of the best military banking institutions and credit unions.
Casey Bond, managing editor for GoBankingRates.com, stated, "Our research revealed that not all financial institutions understand the unique challenges military members face, especially during deployment." Bond continued, "Through our research, we have noticed a lack of resources focused on offering financial products for military families and their specific needs, which is why we have created this list."
Below is a preview highlighting three of the top five military banks and credit unions:
1. Air Force Federal Credit Union
Air Force Federal Credit Union, headquartered in San Antonio, Texas, currently serves both military members and civilians employed by the Department of Defense. Some services offered by the credit union are bill pay, text banking, along with a unique sequestration assistance program designed to help make special arrangements in light of national cutbacks in military spending.
2. USAA Bank
USAA Bank, headquartered in San Antonio, Texas, manages insurance, banking, investment and retirement needs with offers designed for military personnel. One of the best accounts offered by USAA Bank is its Secure Checking account which features: no-fee checking, mobile check deposit, free unlimited fund transfers to and from any bank nationwide and free use of 60,000 USAA-preferred ATMs.
3. Pentagon Federal Credit Union
Pentagon Federal Credit Union (PenFed), headquartered in Alexandria, Virginia, serves more than 1.2 million members. One product offered for PenFed members is a Deployment Guide found on the website that helps members determines a money management plan if they are suddenly deployed. Other products include student checking, money market savings, Individual Retirement Accounts (IRAs) and Coverdell education savings certificates.
Additionally, GoBankingRates.com found that many national banks offer military minded services and several military focused financial institutions offer products for civilians including, PNC Bank, U.S. Bank, Wells Fargo and Chase Bank.
For more information on why these institutions are highlighted and to see the full list of GoBankingRates.com picks, please visit http://bit.ly/145WKr4.
About the Financial Freedom Series
In honor of Independence Day, this July, GoBankingRates.com will feature multiple guides explaining the following financial programs, privileges and institutions available to military personnel, veterans and their families:

VA disability compensation and pension programs.
Health and life insurance options (released on GoBankingRates.com partner site, GoInsuranceRates.com).
About GoBankingRates.com
GoBankingRates.com is a personal finance website that connects readers with the best interest rates nationwide. GoBankingRates collects savings account rates and CD interest rates from more than 5,000 U.S. banks and credit unions, making it the only online rates aggregator to provide comprehensive and authentic local interest rates. Additionally, GoBankingRates.com partners with major media outlets such as Business Insider and US News & World Report to provide compelling personal finance content.
Contact:
Jaime Catmull, Director of Public Relations
GoBankingRates.com
JaimeC(at)GoBankingRates(dot)com
310.297.9233 x261
###
Photo: DVIDSHUB via Flickr Creative Commons
Source: DoD Personnel & Procurement Statistics, Personnel & Procurement Reports and Data Files, Armed Forces Strength Figures for February 28, 2013.