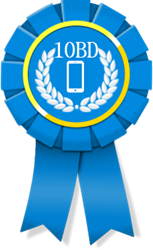 SAN FRANCISCO, Calif. (PRWEB) February 11, 2016
10 Best App is pleased to announce its brand new Best Mobile App award for February. The award goes to companies that have released a top android application which improved the quality of life for the user. The top three winners of the Best Mobile App award are Mint, HealthTap and Fitbit.
As the top mobile app, Mint has a team of marvelous mobile app designers that love each part of the brand-building process. They are highly skilled at enabling people to maintain a consolidated understanding of their transactions and balances by linking bills, credit cards, and financial accounts. All of the data is combined together to create a consolidated total that the user can easily analyze. Mint users can use the app to get a clear understanding of their spending habits based on categories. They can also customize their spending behavior by developing their own unique categories. Additionally, the Mint app includes provisions for the development of a distinct budget that will enable the user to more effectively manage finances. Finally, the app features investment tracking services so that users can compare and contrast market averages to the individual portfolio.
HealthTap, another leading mobile app, allows individuals to obtain answers to health questions. These questions are quickly answered by a doctor. This app is valuable for numerous reasons, including the fact that contemporary society is currently plagued with a wide range of degenerative diseases that compromise the quality of life. By tapping into the power of the HealthTap apps, citizens can attain the information and advice necessary to make prudent health decisions that optimize their level of wellness.
Third on the list of the best android applications is Fitbit, a fitness app that enables users to keep track of their calorie consumption throughout the day. The app works by enabling users to quickly scan bar codes found on the food items that they prepare and eat. The information from the bar code will display the item's nutritional makeup, thereby enabling users to monitor and optimize things such as sodium and caloric intake. While this app is beneficial for everyone, it can be of specific value for those who are attempting to lose weight!
For more information, visit http://www.10bestapp.com.