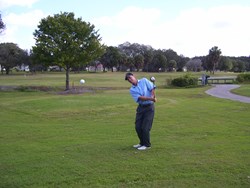 The Best New Golf Wedges Available for Taking Off Strokes and Giving Players the Results They Need to Shoot Lower Scores
Nationwide (PRWEB) November 14, 2013
Some of the reasons they feel that the Black Magic brand of wedges are the best new golf wedges available lies with the innovative thinking and technology for helping the average player with difficult shots that the pros make look so easy with standard wedges.
All it takes for some golfers is to hit a couple of shanks with a short iron and wedge shots and their confidence with a wedge is pretty much lost. They will then revert to a longer iron where the hosel is not so severe giving them little chance to get over bunkers and obstacles where wedges perform best for those shots. Now with the shank free Black Magic Wedges they can feel a great relief knowing that they too can pitch and chip shots with that great confidence.
The Black Magic Wedge is a complete online golf store, where customers can make a purchase 24 hours a day, 7 days a week. They can read what the pros have to say about these wedges along with customer reports. The online store has many short videos showing the ease that average golfers have with wedge shots. Also, there are many blogs to read about the details of each club and what the advantages are so you can make the best choice for your needs.
The Black Magic Wedges conforms to USGA Rules. They have a zero degree bounce angle at impact with a leading edge that wraps completely around the heel of the club so players can easily play with the face angle for different degrees of lift without ever hitting a shank. The hybrid bottom greatly reduces chunking shots which is a big cause of leaving your ball short of your target.
ABOUT:
Blade Runner Golf, Inc. is a company devoted to the notion that a golfer's short game can make all the difference in his or her final score—but you can take your short game to the next level only if you have the right equipment. Black Magic's hybrid wedges conform to USGA rules, but also helps golf enthusiasts find new precision and power as they make their way onto the putting green and they can be accessed on the web at: http://www.blackmagicwedge.com.
Contact:
Black Magic Wedge
2519 McMullen Booth Rd
Suite 510-129
Clearwater, FL 33761
Phone 727-726-5737
Toll Free 877-799-6099