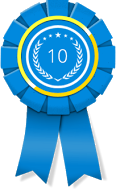 NEW YORK, N.Y. (PRWEB) August 24, 2017
10 Best Design is honored to present the winners of its Best Responsive Web Design Agency awards for August 2017, selecting Big Drop Inc, Blue Fountain Media and Arhue as the leaders in this category.
When 10 Best Design releases a new list of honorees, the web development and online marketing communities take notice. Since 2012, the organization's team of technical and business experts has reviewed and ranked web design firms that perform top-level work. This month's list of winners in the Best Responsive Web Design Firm category honors outfits that build impeccable sites.
Responsive web design enables sites to effectively load onto the modern, high-tech devices that consumers use to browse the internet. Sites built via responsive design can fit the screen of any recently-manufactured computer, smartphone or tablet. Thus, people can use responsive sites on their mobile devices without enlarging every page they load or dragging their fingers from one side of the screen to the other.
The list of this month's winners in the responsive design field was derived from stiff competition. Topping 10 Best Design's August list of best responsive web design firms is Big Drop Inc. With offices in New York City and Los Angeles, Big Drop has superb locations that give it access to talented professionals who can create stunning work for clients. Brands can rely upon this outfit for a full list of online-media services.
New York City's Blue Fountain Media also made August's list of top firms. As a leading responsive web design business, Blue Fountain Media has a sterling reputation for creating high-quality designs. In addition to building sites that properly fill the screen on a laptop or an iPhone, Blue Fountain gives clients a broad scope of professional services. On their menu, one sees website development, branding, app development, consulting and digital marketing. Companies anywhere can confidently hire Blue Fountain Media to meet their needs.
Another top responsive web design firm, Arhue, also scored a spot on August's list of winners. A winner in multiple categories, this Bay Area firm has satisfied clients in high-tech and many other business sectors. Along with building stunning sites atop responsive frameworks, Arhue provides content, branding, graphic design, PR services, video production, app development, strategy and consulting. Clients can leave their projects in Arhue's exceptional hands and get back to their core competencies.
Every winner on 10 Best Design's list of amazing responsive-site developers produces superb work. For more details about 10 Best Design's August winners, visit http://www.10bestdesign.com.