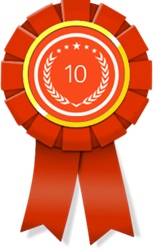 PHILADELPHIA, Penn. (PRWEB) February 13, 2017
10 Best SEO is pleased to announce the winners of its Best SEO Agency awards for February 2017, placing WebpageFX in the top spot.
Search engine optimization is a vital aspect of modern business success. With the number of businesses abandoning traditional print media in favor of faster, cheaper, and more engaging digital content, it should come as no surprise that brands wanting to succeed should work to engage the largest audience possible from an online setting. Firms that offer such digital marketing services are starting to crop up everywhere. And with so many businesses seeking such services, even the subpar providers can thrive. So how does a business know if they are contracting one of the best providers out there, or if they have been beguiled by a less than impressive company?
10 Best SEO hopes to provide the answer to that question with their new monthly ranking system. This system helps narrow down the field of potential candidates to the cream of the crop, and it provides a monthly update so consumers can be aware of the leaders in the industry. The top three winners for February have been described below.
WebpageFX is the best SEO firm for the month of February. WebpageFX is one of the industry's leading fully comprehensive digital marketing firms. They have a long history providing stellar marketing services to their clients, and they have a great talent for finding the most efficient keywords and other phrases that will boost the visibility of any brand.
Digital Current is the second-best contender on the list of best online marketing firms for February 2017. Digital Current is an industry leader that has consistently performed well over the years. They have amazing skills when it comes to crafting an effective search engine optimization plan, and they are well-known for the amount of research they perform to better understand their clients.
Top SEO agency Boostability took the third-place spot on February's list. Boostability takes great pride in their ability to help their clients find continuous growth at a steady pace. They are adept at expanding the processes of a business to create more leads and even greater visibility in search results. They will work diligently to ensure their clients get exactly the results for which they are searching.
For more details about this month's award winners, visit http://www.10bestseo.com.