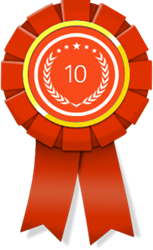 WASHINGTON, D.C. (PRWEB) May 30, 2017
10 Best SEO recently started a monthly award system that creates a new ranking of the 10 best SEO firms each month, and the winners always represent a range of unique services and statistical analysis. The top three SEO firms for May 2017 are WebpageFX, Straight North and Boostability.
Every business in the modern day can benefit from having a website, but websites need SEO in order to properly thrive. It can be difficult to decide on the best SEO agency to overhaul an online marketing strategy, but doing so will save precious resources and maximize exposure. The goal of 10 Best SEO is to rank the most influential and fastest-growing agencies in the SEO marketplace. They work diligently to compile a full and comprehensive list of the very best SEO firms available for hire.
WebpageFX was ranked number one in the May 2017 list of the best SEO companies by 10 Best SEO. As a top SEO agency, WebpageFX has a dedicated team of digital landscape experts who excel at many of the most effective search engine optimization techniques. Their skills have been shown to increase conversion rates by creating more favorable search engine page rankings. Not only can they offer incredible SEO strategies, but they provide statistical information on a campaign as it progresses.
Leading SEO agency Straight North was ranked as the second-best online marketing agency for May by 10 Best SEO. Their goal is to bolster exposure through a vivid and comprehensive web presence that cannot be ignored. They work to reach their goal by using SEO strategies to boost the page ranking for their clients, which ultimately moves the client's website to a more noticeable location on the list of results. They also offer stellar link-building services along with keyword research.
Boostability ranked third on this month's list of best online marketing agencies. This full-service SEO firm not only focuses their talents on SEO, but also on creating content, web design, social media management, and more. Their services are available to both large and small businesses alike, and they have garnered several awards in the industry, including Best Local SEO Firm, which they won in November and December of 2015.