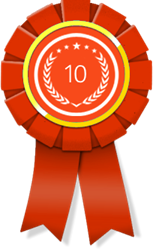 HARRISBURG, Penn. (PRWEB) September 26, 2017
10 Best SEO is honored to present the winners of its Best SEO Agency awards for September 2017, selecting WebpageFX as the leader in this category.
It's nearly impossible for a brand to survive in this modern world without some sort of online presence, and those with the most comprehensive and efficient websites tend to have an advantage over their competitors in their own field. Search engine optimization is a method of digital marketing that helps a website appear higher in search engine results, thus making those sites more visible to customers. Many different agencies offer SEO services, but which ones are the best?
10 Best SEO wants to make that question obsolete with their lists that rank the best SEO agencies every single month. They do this to keep the public up to date on the current trends, and they use sophisticated methods to create their lists. The winners for the month of September 2017 have been recently selected, and the top ten can be seen online, while a summary of the first three winners is provided below.
WebpageFX, the leading SEO agency for the month of September, is a fully-comprehensive digital marketing service provider. SEO is just one facet of what they do, and they are exceptionally skilled at it. In order to make SEO as effective as possible, WebpageFX has taken the category and broken it down into smaller sections. They offer global SEO, enterprise SEO, local SEO, and eCommerce SEO.
Top SEO agency Straight North is the second-leading search engine optimization company for September in 2017. They have the skills to put a website in front of a brand new audience while simultaneously maintaining a connection with the established clientele. They provide comprehensive SEO services like keyword analysis, target audience research, link-building, and much more. For every project they undertake, they work closely with the client throughout the process.
When it comes to helping businesses reach their own goals, Boostability is a force to be reckoned with. It is not surprising that this firm landed among this month's award-winning leading search engine optimization companies. They offer a wide range of SEO tools that are perfect for smaller businesses, and they work hard to continuously improve their services to keep up with the changing times. Their SEO skills are nearly perfect since they have had the time and experience to improve and streamline their services. Some of their SEO tools are even free so brands can try them before making any serious commitments.
For more information about the award winners for this month, please visit http://www.10bestseo.com.