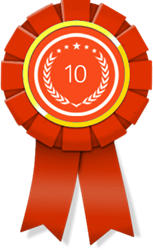 CHICAGO, Ill. (PRWEB) October 09, 2017
10 Best SEO has just released its list of October 2017 winners in the category of Best SEO Agency, naming Straight North as the top contender.
This is a new monthly award that commends companies for their ability to successfully market their clients and improve their traffic and overall productivity. The award goes to companies that go far beyond the call of duty in customer service, service offerings, success, pricing and other factors. The top businesses have shown excellence in numbers as well as client satisfaction.
Chicago company Straight North won the number one spot among the top online marketing businesses for its outstanding delivery of services. They work hard to increase their clients' sales leads, improve web traffic and keep visitors interested and captivated once they visit the site. Interested companies can request an SEO audit and speak with a specialist about what they can do to improve their stats. Prospective clients can have full confidence in this company's ability to bring the results that they need for their establishments. Its endurance and excellence have affected businesses of all sizes across the nation.
Another leading SEO agency, Ignite Visibility, also received recognition for its numbers. This company has been successful in making conversions happen for its clients. It boasts a 750 percent conversion rate as well as PPC excellence. This team of experts involves itself in a myriad of services such as website design, public relations and more. It offers prospective clients the opportunity to receive a free analysis of their websites so that they can start improving them immediately.
Top SEO agency Boostability was awarded the number three sport among the top online marketing businesses. The company got its acclamation because of its outstanding ability to produce visibility for its clients in a short amount of time. People mostly recognize Boostability for its pay-per-click efforts, but it also provides services such as search engine optimization, email marketing, and social media marketing.
10 Best SEO will be giving this award on a monthly basis to companies that excel in online marketing. Businesses will know the best places to go when they need to improve their engagement and stats so that they can compete with other businesses in the field.
For more information about this month's winners, please visit http://www.10bestseo.com.