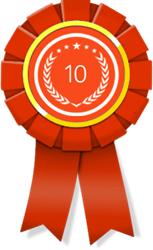 PHILADELPHIA, Penn. (PRWEB) April 12, 2016
10 Best SEO has created a new award that recognizes the top SEO agency presences in the business. The award, given out on a monthly basis, recognized Philadelphia, Pennsylvania's WebpageFX as the best SEO agency for April 2016. 10 Best SEO is a leading Internet organization that is knowledgeable about SEO and digital marketing in general.
As the leading SEO agency, WebpageFX is a highly-regarded full-service marketing agency that genuinely understands the universe of search engine optimization. The company's marketing aficionados are all bona fide SEO gurus. They use tried-and-true SEO practices to help their clients receive their desired outcomes. Clients that are looking for straightforward, detailed and comprehensive Internet marketing assistance regularly reach out to the talented professionals who work for WebPageFX. WebPageFX's objective is to help their clients reach for the stars day in and day out.
10 Best SEO selected Digital Current in Mesa, Arizona as its second-place winner on the April 2016 list of best SEO agencies. The team members at Digital Current have in-depth knowledge that pertains to digital marketing and ranking on popular search engines. Digital Current has been in existence since 2003. Although the company had humble roots, it's currently a major agency that has a staff of 60-plus, full-time workers. Digital Current is a prominent company that is well-versed in all of the changes that are associated with digital marketing. Digital marketing is a field that is perpetually evolving. That is why Digital Current makes a point to learn about all of the newest marketing practices.
Boostability in Lehi, Utah is the third-place winner for April of 2016. Boostability is a top SEO agency that has a comprehensive way of handling search engine optimization and all of its related components. The team members at Boostability are enthusiastic about doing great SEO work for all of their clients. Clients that are looking for meticulous and exhaustive SEO assistance frequently opt to work with the immensely capable professionals at Boostability.
Examples of some other impressive search engine optimization companies that made the cut for April of 2016 are SocialFix in New York, New York; Ignite Visibility in San Diego, California; Inflexion Interactive in Hoboken, New Jersey; and Hudson Horizons in Saddle Brook, New Jersey.