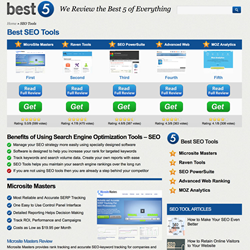 If you are not using SEO tools then you are already a step behind your competitor
Los Angeles, CA (PRWEB) May 03, 2014
Best-5, a website that is devoted to providing consumers with a reputable source for in-depth and accurate reviews of products and services, has just added a new section to the site that focuses on the best SEO tools and software programs on the market.
From the day it first launched, Best-5 has had one goal in mind: to give people access to expert reviews, user testimonials, a star rating system, and educational articles about the various industries and their related products. By adding a new section devoted to SEO tools and software programs, the founders of Best-5 have once again provided useful and unbiased information that consumers can confidently rely on and use.
After months of collecting and analyzing the dozens of customer votes, the founders of the site have posted reviews and information about the top five SEO tools and software programs. Microsite Masters—which is described in the review as offering the most reliable and accurate SERP tracking—is currently in the top position.
In addition to the reviews about the top five SEO tools, Best-5 also features articles about products that can help educate consumers about the usefulness of these software programs. For example, a new article titled, "Benefits of Using Search Engine Optimization Tools – SEO," said that the software is designed to help people increase their online ranking for targeted keywords. In addition, the SEO tools can help users to create their own reports, and they can also assist companies and individuals in maintaining their search engine rankings over a period of time.
"If you are not using SEO tools then you are already a step behind your competitor," the article noted.
As the review of Microsite Masters points out, the innovative and top-quality SEO tool provides rank tracking and accurate SEO-keyword tracking for both people and companies.
"Microsite Masters checks daily for rankings, so you can be sure that your results are up-to-date," the review noted, adding that their company started in response to a lack of regular SEO-management standards, and they strive to give customers the best SEO-campaign management possible.
From reviews of anti-virus software and Bluetooth speakers to dating sites, home security system, life insurance companies and much more, Best-5 is proud to be a one-stop in-depth review shop for consumers. With the addition of the new reviews and articles about SEO tools and software, the founders of the site are proud to help consumers make the best choice for their SEO related needs.
About Best-5:
Best-5 reviews the best of everything. The website provides expert reviews, in depth articles, user testimonials, and a star rating system. The site also features reviews of hundreds of products and services. For more information, please visit http://www.best-5.com/seo-tools/