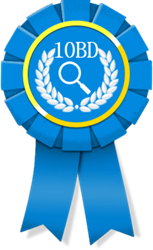 NEW YORK, N.Y. (PRWEB) February 16, 2016
As an organization committed to acknowledging and exploring excellence within the Internet marketing sphere, 10 Best Design is pleased to announce a new monthly award: Best SEO Web Design Firm. This award acknowledges some of the industry leaders who have gone above and beyond the call of duty to provide clients with incredible digital services that take their brand from good to great.
Big Drop Inc., a leading SEO web development firm, was privileged to be listed as the #1 agency for February 2016. The Big Drop Inc professionals place primacy on operating in excellence and ethics, meaning that clients can expect to attain the exceptional services necessary to keep their online image pristine, positive, and powerful. As search engine optimization experts committed to earning page 1 ranking for their clients, the firm's representatives employ a wide range of on-page and off-page optimization techniques to get the job done.
Blue Fountain media is also among the elite group of amazing SEO web design firms that topped this month's list. The professionals of this NYC-based company are fluent in programming languages, meaning that they can assemble incredible websites quickly and correctly. Additionally, they make use of open source resources to create customized apps that are accessible through both desktop and mobile devices. The techies of Blue Fountain Media also conduct ongoing target market research to ensure that the advertising strategies employed help catch and maintain the interest of the business owner's primary audience.
Leading SEO web design firm Maxburst was recognized as the third-place company on 10 Best Design's list. Business owners who are ready to take their online presence from mediocre to marvelous often connect with the professionals of Maxburst. This top-notch firm is comprised of several web design and development experts who enjoy each part of the site assembly process. In addition to creating sites that are optimized for mobile friendliness and engagement, the Maxburst team uses creativity systems and strategies to ensure that the client's web pages are innovative and original. And to ensure that the site earns a competitive listing in the SERPs, the Maxburst representatives utilize customized, cutting-edge search engine optimization services like keyword analysis and link building.
For more information, visit http://www.10bestdesign.com.