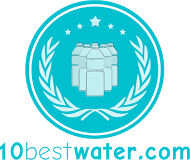 SAN FRANCISCO, Calif. (PRWEB) February 10, 2016
10 Best Water is excited to announce a new monthly award category: Best Water Brand. There were three leading bottled water brand owners that topped the list as a result of their commitment to offering clients creative, customized, cutting edge services that enhance connectivity and optimize conversion. The premier brand was Tibet 5100, a top notch water company that specializes in providing the public with refreshing beverages that brighten the day and soothe the senses. Other leading contenders were Waiakea and Fiji.
At this historical moment, Tibet 5100 is considered number one in the world among the leading bottled water brands. The water offered from the company is bottled, fresh, and natural. Consumers need not worry about troublesome additives or preservatives compromising the quality and taste of their water. Additionally, Tibet 5100 is one of the most customer-centered water brands on the market. As such, consumers can count on having their needs and preferences recognized and responded to by the company's representatives. Moreover, the water offered by the company is replete with numerous valuable minerals that offer health-boosting benefits for all who care to try their tasty beverages!
Waiakea is a top notch volcanic, Hawaii-based company that is thrilled to provide each customer with high quality water products that delight the taste buds and satisfy the soul! Waiakea is a top water brand whose product is harvested from the melted snow and rainwater found at the peak of the Mauna Loa volcano. This water is filtered beneath layers and layers of volcanic rock. From this location, the water is naturally enhanced with minerals and vitamins to create a fresh, crisp taste that customers fall head over heels in love with. The water contains an absolutely amazing set of minerals, including magnesium, potassium, and calcium. Additionally, the water produced by the company is packaged in 100% recyclable containers, and the packaging is certified CarbonNeutral.
Established in 1996, Fiji Water is a top water brand that develops amazing products for amazing people. The water is acquired through an artesian aquifer located deep beneath the Earth's surface. This aquifer is shielded from any and every external influence through numerous layers of rock. The natural pressure exerted beneath the Earth works to push the water to its surface. From there, the Fiji Water professionals collect their product. All of the Fiji water products come straight from their natural source. This means that the first sip taken is entirely untouched by humans.
For more information, visit http://www.10bestwater.com.