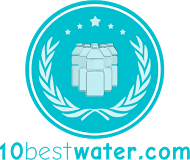 SAN FRANCISCO, Calif. (PRWEB) November 28, 2016
10 Best Water is pleased to announce the November 2016 winners in its Best Water Brand award category: Tibet 5100, Waiakea and Fiji water. This award category acknowledges companies that specialize in providing customers effective, interactive products and services that optimize their water drinking experience.
Tibet 5100 is a leading water label that specializes in providing customers with one of the most vital life resources: water. Unfortunately, many of today's water sources are tainted in a substantive manner. In recognizing this reality, the professionals of Tibet 1500 specialize in consistently providing clients with high quality water products that will satisfy their thirst while simultaneously promoting health. The representatives of the company are able to accomplish these objectives because they use pure water sources. By using a spring that sits high within the Tibetan mountain region, the company's officials are skilled in ensuring that customers attain the absolutely amazing water quality they need and deserve.
Waiakea is also on the list of top water labels that specialize in providing customers with absolutely incredible water products and services. For many years, the company's professionals have used sustainable water sources to ensure that they can bring customers high quality water without harming the environment. They also use recyclable products for the packaging and distribution of their water goods. Also, Waiakea is famous for being the first water brand to attain a carbon neutral rating. For excellent water products from a company committed to sustainability, choose Waiakea.
Another top water brand, Fiji Water is a progressive, powerful company that obtains its water from a remote Pacific island. The representatives of the organization are consistent in providing clients with high quality water that contains minerals and electrolytes. These water components help ensure that customers attain a health boost as they satisfy their thirst. An added benefit of choosing Fiji Water is that the company's professionals are committed to environmental protections. They also work with dedication and diligence to ensure that communities in need attain the high quality drinking water they deserve.
For more information about the November award winners, visit http://www.10bestwater.com.