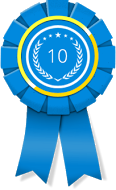 SAN FRANCISCO, Calif. (PRWEB) August 31, 2017
10 Best Design recently presented the winners of its Best San Francisco Web Development Business awards for August 2017, selecting Arhue as the premier firm in this category.
10 Best Design is a company committed to offering the public relevant, accurate, interesting information regarding the internet marketing sector. As such, the team is pleased to announce the arrival of its new award category: Best Web Design Firm. Following is a brief rundown of the award winners in this area.
Business owners who insist on obtaining dynamic web design and development services should turn to the professionals of Arhue. Located in San Francisco, Calif., this community of marketing geniuses is all about getting results for the client. As one of the best web design firms, Arhue delivers results that include things like more industry influence, increased sales, product loyalty, and the development of brand ambassadors. The techies of Arhue realize these business-building objectives through the implementation of cutting-edge site development strategies that help the brand stand out and maintain a distinct, attention-grabbing presence in the online sector.
Another San Francisco web development firm, EIGHT25MEDIA, is a community of site development experts that are deeply passionate about providing clients with immensely effective, innovative online marketing services. The professionals of EIGHT25MEDIA adopt and maintain a multi-faceted approach to the web design process. This approach can involve using numerous modalities in tandem, some of which might include responsive web design and conversion optimization.
Also located in San Francisco, KNI is a top web design firm and marketing community comprised of talented, tenacious people who work in a strategic manner to make the client's brand more profitable and progressive online. The creative representatives of the community make online growth happen through the consistent implementation of web design and development strategies that make the client's site more eye-catching, innovative, and organic. In addition to offering the brand owner dynamic graphic design services that enhance site aesthetics, the professionals of KNI provide clients with other key brand-optimizing services like responsive web design. Another significant benefit of working with the KNI representatives is that they utilize a client-centered approach when working. This tactic to site development ensures that the business owner's specific, evolving perspectives and needs always come first.
For more information about 10 Best Design's August winners, visit http://www.10bestdesign.com.