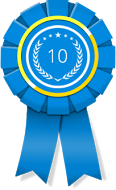 NEW YORK, N.Y. (PRWEB) August 28, 2017
10 Best Design is pleased to announce the winners of its Best Web Design Firm awards for August 2017. The top four recipients of the web design award are Big Drop Inc, Blue Fountain Media, Ruckus Marketing, and Arhue Agency. These award-winning web design firms are highly-regarded in their industries.
10 Best Design is made up of expert web page design specialists that are all highly familiar with what makes leading websites so valuable, handing this knowledge off to consumers. The team of design professionals at 10 Best Design knows what it takes to become a top company in the industry. With years of collective experience, the 10 Best Design team has developed the talent for determining companies that have demonstrated excellence in the competitive web design industry. Recipients of the Best Web Design Firm award are ranked according to an algorithm that incorporates reviews, research, SEO rankings, previous accolades, website traffic and more.
With offices in New York and Los Angeles, Big Drop Inc is a leading web design agency that has partnered with some of the world's most innovative companies, including Core Car Corporate Transportation Services, Merkury Innovations and Alpha Sky Buds. The team at Big Drop specializes in branding, design, animated videos and marketing. From small businesses to Fortune 500 companies, this leading web design agency offers web solutions to companies of all sizes.
Blue Fountain Media is a top web design agency with offices in New York City, Chicago and Seattle. This design firm has an impressive roster of clients, such as AOL, Harper Collins Books, NFL and AMF Bowling. Blue Fountain Media provides design solutions to a variety of industries including education, commerce, real estate, government, financial and luxury. Clients around the world rave about Blue Fountain Media's innovative design solutions.
Ruckus Marketing, also one of the top web design firms, is headquartered in the heart of New York City. The innovative company has been prominently featured in the Wall Street Journal, Business Insider, CNN and BuzzFeed. Ruckus Marketing provides brand, campaign and platform services to top-tier clients, including Carlos Falchi and HSBC.
Located in San Francisco, Arhue (http://www.arhue.com) is a top web design firm that espouses their ability to provide cutting-edge designs and sites to almost any price range. They do so through their own streamlined corporate structure, but that does not mean that they have not worked with some of the most recognizable brands in the world. Arhue's team has worked with major car companies, multi-national software conglomerates, and even small local businesses.
10 Best Design is headquartered in San Francisco, California. The company hosts a website design firm directory that features only the highest ranked design firms in the industry.
For more information about the winners on 10 Best Design's August list, visit http://www.10bestdesign.com.