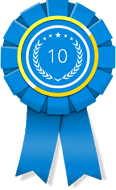 NEW YORK, N.Y. (PRWEB) August 25, 2017
Recently, 10 Best Design chose the winners of its new Best Manhattan Web Development Business awards for August 2017, honoring Big Drop Inc and Blue Fountain Media.
10 Best Design has been handing out awards to some of the best website designers in the U.S. since 2012. They are a growing organization with a nationwide team of web design and development experts working every day to rate website creation businesses. 10 Best Design's new monthly award for the Best Web Design Firm is given to companies in the website design industry that have shown creativity, innovation and solid web development skills.
Following is a summary of the top award winners for August.
As a leading Manhattan web development business, Big Drop Inc has what it takes to build high-quality websites for businesses across a wide range of industries. They can take on projects of all sizes and scopes, ranging from simple static web pages, all the way to highly interactive multimedia sites with online applications powered by cloud-based data sources. Big Drop Inc's web development experts also recognize the fact that a growing number of Internet users are on mobile devices, which is why they emphasize the importance of responsive design.
While website design is their main service, Big Drop Inc provides many other digital services to businesses from all over the world. These include animated online videos, digital marketing and brand development services.
Blue Fountain Media is also one of the top Manhattan web development businesses in New York. They have been hired by some of the most widely known brands in the world to create new websites and refresh their existing online presence. This web design agency has a team of graphic designers, digital marketers, coders and programmers, online branding specialists, UI design experts and many other highly talented individuals all working together to create unique digital experiences.
In order to better serve their nationwide clients, Blue Fountain Media has opened locations in Chicago and Seattle to complement their main office in New York. The work of this agency has been featured in some of the leading publications related to website creation and digital marketing.
For more information about 10 Best Design's August winners, visit http://www.10bestdesign.com.