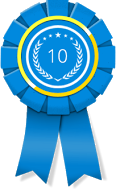 NEW YORK, N.Y. (PRWEB) August 28, 2017
10 Best Design is excited to reveal the winners of its Best Web Designer awards for August 2017, naming Big Drop as the top honoree.
10 Best Design is an important source of awards and information covering the web design field. By using its monthly awards to garner attention for web designers and developers that do exceptional work, the organization helps agencies become major forces in their markets. 10 Best Design opened in 2012 and has since provided the online world with monthly lists that highlight leading web designers and firms that deliver dominant online services.
Brands that want to hire a top web designer to create new content, redo their sites or provide search engine optimization can comfortably turn to 10 Best Design's monthly list of web developers. Every agency that makes the list features talented and experienced staff members who provide professional web design in their regions and across the internet.
10 Best Design's latest list of August winners includes Big Drop Inc, as the leading web designer. Based in New York City, this firm also delivers its top-notch services via offices in Los Angeles. Big Drop Inc's prime locations give it access to the two largest pools of creative talent in the United States. Marketing and design expertise are among Big Drop Inc's offerings. The company also creates animated videos in a range of styles.
Also headquartered in New York City is another leading web designer, Blue Fountain Media, that made 10 Best Design's newest list. Staffed by a host of talented experts, this agency offers clients a wide array of online-media services. Blue Fountain Media has an impressive online portfolio that gives possible clients a clear idea of the outstanding work the company can do for them.
August's list of best web designers also features San Francisco's EIGHT25MEDIA, which has built more than 500 sites. Brands eagerly turn to EIGHT25MEDIA for its full slate of web-related business services. The company's service categories include web design and development, web app development, mobile app development and digital marketing.
Clients who choose any firm on 10 Best Design's list can be confident that their professional needs will be met. For more information about the winners for August, visit http://www.10bestdesign.com.