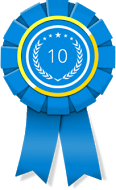 NEW YORK, N.Y. (PRWEB) August 30, 2017
10 Best Design recently selected the winners of its Best WordPress Web Design Firm awards for August 2017. Three New York City companies emerged as top web design firms in this first-time ranking by 10 Best Design—Big Drop Inc, Blue Fountain Media and Ruckus Marketing.
In this new competition, 10 Best Design will give awards to the Best WordPress Web Design Firms every month. 10 Best Design, based in San Francisco, launched this competition to provide firms with a tool to compare web design enterprises. A leading WordPress website development company can make the difference between a mediocre and an excellent site for the client. That difference can impact the client's brand, conversion rates, and returns on investment.
10 Best Design employs a ranking process that is both unique and useful. To rank the best web design firms, 10 Best Design utilizes a team of veterans in online branding, web design, and web development. The team uses an algorithmic application to evaluate web design firms. 10 Best Design's proprietary algorithm considers a variety of factors, including services offered, research, customer reviews, traffic ratings, and several other indicators.
Among this month's winners, Big Drop Inc was the best WordPress web design business in 10 Best Design's ranking. Using the WordPress content management system, Big Drop launches and manages websites for a variety of businesses, individuals, and organizations. The company offers extensive services in design, branding, and marketing. Apart from its main office in New York City, it also has offices in Los Angeles and Europe.
10 Best Design ranked Blue Fountain Media in second place for the August contest. Being a leading WordPress web design firm, Blue Fountain Media works with WordPress, Magento, and Drupal content management systems. Nonprofits, public-sector organizations, and corporations of various sizes comprise Blue Fountain's customers. Apart from branding and design services, Blue Fountain also consults on strategy, website and mobile apps, and digital marketing. It operates offices in New York, Chicago and Seattle.
Ruckus Marketing took the number three spot on the list of leading WordPress website development companies for August. It also uses WordPress to complete exemplary work for its clients. The customers of Ruckus Marketing come from diverse sectors, including the automotive industry, government agencies, nonprofits and religious organizations. The firm prides itself on "expertly crafted disruption" to get success for its clients through branding, web and mobile platforms, and campaign development services.
To learn more about 10 Best Design's August winners, visit http://www.10bestdesign.com.