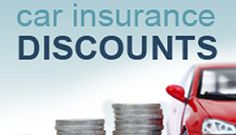 "To lower the price of car insurance and attract more customer, insurance companies offer various types of discounts. Drivers should not miss these opportunities and they should do research in order to see how much money they can save", said Russell Rabichev, Marketing Director of IMC
LOS ANGELES (PRWEB) April 15, 2019
Carinsurancesavings.biz has launched a new blog post that presents several car insurance discounts that can help anyone save money.
For more info and free online quotes, please visit http://www.carinsurancesavings.biz/easy-car-insurance-discounts
Getting car insurance is one of the biggest responsibilities a car owner can have. Without it, drivers can't legally drive on the roads of the US. US households spend hundreds and even thousands of dollars each year on car insurance. Luckily, there are some ways that can help policyholders obtain lower car insurance rates. Obtaining several discounts will help drivers save money on auto insurance.
The best discount drivers can get are the following:

Low-mileage discount. Insurance companies consider that drivers that spend less time on the roads are less likely to be involved in accidents. For this reason, they encourage drivers to use their cars less often and they offer a low-mileage discount. To qualify for this discount, policyholders are required to drive fewer miles than a certain limit that varies from one insurer to another.
Good driver discount. Drivers who didn't cause an accident or received a traffic ticket in the past three to five years are eligible for this discount. The best part of this discount is the fact that it can be received by all the registered drivers in a household. This means that the insurance premiums will decrease every time a driver from the household qualifies for the discount.
Safety gear discount. There are numerous aftermarket safety devices that can make a car safer. Insurance companies will offer a safety equipment discount to those policyholders that are willing to make their vehicles safer. However, policyholders are advised to contact their insurers before installing any safety devices and see which devices are approved and how much each device can save on car insurance.
Good student discount. The statistics show that students that are getting good grades are more responsible on the roads and are less likely to be involved in car accidents. Usually, students that have a 3.0 GPA or higher are eligible for this discount. This discount is really important for young drivers that already pay high insurance rates because they are classified as high-risk drivers.
For additional info, money-saving tips and free car insurance quotes, visit http://www.carinsurancesavings.biz/
Carinsurancesavings.biz is an online provider of life, home, health, and auto insurance quotes. This website is unique because it does not simply stick to one kind of insurance provider, but brings the clients the best deals from many different online insurance carriers. In this way, clients have access to offers from multiple carriers all in one place: this website. On this site, customers have access to quotes for insurance plans from various agencies, such as local or nationwide agencies, brand names insurance companies, etc.