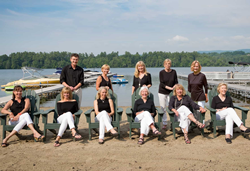 SALISBURY, Conn. (PRWEB) August 09, 2019
William Pitt Sotheby's International Realty today announced that the firm has expanded its market presence in a merge with local real estate boutique firm Best & Cavallaro. The merger adds several accomplished real estate experts to the firm including Best & Cavallaro co-founder Patricia Best and eight more agents.
The combined market share of the two firms makes William Pitt Sotheby's International Realty No. 1 in Salisbury by dollar volume, according to SmartMLS. The company said the merger was part of a larger strategic move to build market share in the Northwest Corner of Connecticut. In recent months the firm has also opened a new highly visible office location in Kent and relocated its Salisbury office to Main Street.
"The addition of this powerhouse team will only strengthen our No. 1 market share in sold dollar volume throughout Litchfield County for 2019," said William Pitt Sotheby's International Realty Litchfield County brokerage manager Kristine Newell. "We are excited to offer our customers more highly skilled agents to serve their needs anywhere in the county. We know we will greatly benefit from the real estate expertise, talent and rich local knowledge brought by this esteemed team, while they in turn will benefit from the prestigious and far-reaching platform offered through our international brand."
The nine Best & Cavallaro sales professionals will work together going forward as the Best & Cavallaro Team at William Pitt Sotheby's International Realty, retaining the name as the firm itself ceases operations. The name will also live on through the firm's highly ranked website, which will remain active and rebranded to William Pitt Sotheby's International Realty.
In addition to Patricia Best, other agents moving to William Pitt Sotheby's International Realty include Lori Belter, Laurie Dunham, Dave Mallison, Patricia Thurman, Martha Mullins, Mary Kirby, Kristine Jennings and Christine Bates. The firm's five additional agents, including co-founder Mardee Cavallaro, will retire as active salespeople but affiliate with William Pitt Sotheby's International Realty as referral business partners.
According to SmartMLS, Best & Cavallaro has handled over $500 million in sold dollar volume since its founding in 2006. The firm is well-known throughout the Northwest Corner for its unique team approach, in which all members of its sales force make themselves available to assist with the needs of any client of the firm. Its sales professionals additionally have a reputation for being deeply involved in the local communities they service.
"This new association brings our clients and agents a level of marketing and networking reach not previously available to them," said Patricia Best. "The international exposure with connections to real estate experts all over the world, extraordinary marketing both nationally and globally, cutting-edge technology, preeminent branding and incredible referral opportunities are just a few of the advantages that will now enhance our business."
Best stated that she was looking forward to celebrating the retirement of her longtime partner, Mardee Cavallaro. "After nearly 40 years in the business, Mardee has left her mark as a broker with an outstanding sales record and a passionate commitment to service," she said.
Prior to launching Best & Cavallaro, both founders were top producers with Borden Realtors for over 11 years in Lakeville, Conn., and over the years, both became very ingrained locally. Best is active in civic affairs, serving as Past Chair of the Board of Tri-Arts at the Sharon Playhouse for over 15 years and a successful fundraiser for area non-profits including Salisbury Family Services, a charitable organization helping local people in financial need or facing other challenges.
Community involvement is a trait shared by other Best & Cavallaro agents as well. Mary Kirby is a volunteer with a number of civic organizations and on the advisory board of Salisbury Bank and Trust. Lori Belter is a founding member and past president of Tri-State Center for the Arts (TriArts), a 15-year EMT with Salisbury Ambulance, and a board member with the Housatonic Youth Services Bureau, which recently presented her with an award for her volunteer work.
About William Pitt-Julia B. Fee Sotheby's International Realty
Founded in 1949, William Pitt-Julia B. Fee Sotheby's International Realty manages a $4 billion portfolio with more than 1,000 sales associates in 27 brokerages spanning Connecticut, Massachusetts, and Westchester County, New York. William Pitt-Julia B. Fee Sotheby's International Realty is one of the largest Sotheby's International Realty(R) affiliates globally and the 37th-largest real estate company by sales volume in the United States. For more information, visit the website at williampitt.com [williampitt.com __title__ ] [williampitt.com __title__ ].
Sotheby's International Realty's worldwide network includes 990 offices throughout 72 countries and territories on six continents.