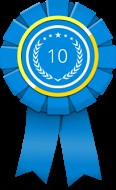 CHICAGO (PRWEB) June 27, 2019
10 Best Design is honored to present the winners of its Best Chicago Web Design Firm awards for June 2019, selecting Blue Fountain as the leader in this category. Color Jar was also highly ranked among the top 10 Web design firms in Chicago.
With the web design industry perpetually expanding, small companies and established businesses alike are finding it increasingly difficult to discern reputable firms from mediocre ones. This is where 10 Best Design comes in. 10 Best Design seeks to streamline the search for a trusted web design firm with its reviews and rankings of the best creative agencies. Using cutting-edge research and client-based polls, 10 Best Design has collated a list of the top-rated Chicago-based web development businesses. Below are descriptions of the best design firms, according to 10 Best Design.
Proudly holding the top spot among the best Chicago web development businesses, Blue Fountain Media pairs imagination with technology to drive digital transformations. Excelling in web design, development, and digital marketing, Blue Fountain Media employs a series of techniques in an effort to create high-performing websites. Using their unbridled creativity, this award-winning firm transcends industry standards in the hopes of "making the shift from now to next." With their keen insights and inspired initiatives, Blue Fountain Media is taking the web design realm by storm.
Solid Digital is a top web design firm that offers an array of services in Chicago. Taking a client-oriented approach, Solid Digital aims to create meaningful digital growth by aligning interests. From digital marketing and strategic planning to app development and web design, Solid Digital is well versed in the many facets of their domain. As a team of enthusiastic doers, Solid Digital constantly employs their innovative thinking to pioneer the next big thing in web design and development.
10 Best Design also rated Color Jar as one of the top 10 Chicago web design firms. Inspired by the creative unknown, Color Jar is a strategy and design firm specializing in web design and development. The antithesis of ordinary, Color Jar is a squad of advanced thinkers and trailblazers. As a leading web design firm, Color Jar has proven their merit time and again. At their core, Color Jar is a collaborative creative agency striving to reinvent the wheel. Some of their expertise include brand identity, logo design, content management, and graphic design.
For more details about the award winners for June, visit http://www.10bestdesign.com.