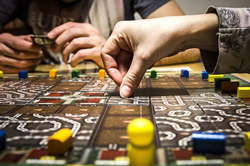 Salt Lake City takes the number one spot in a new Best Cities for Board Gamers study, with Austin and Portland a close second and third.
PORTLAND, Ore. (PRWEB) December 16, 2019
Best Cities for Board Gamers - New Study Reveals Salt Lake City Number One
Do you like playing board games? The folks in Salt Lake City sure do. Salt Lake City, Utah takes the #1 spot in the new Best Cities for Board Gamers study by BestPlaces. Austin, Texas and Portland, Oregon follow at #2 and #3.
With mega-selling games like Settlers of Catan and Pandemic being played in living rooms, dorms, and bars across America, board games have seen a huge uptick in popularity over the last few years.
Of the 50 largest metro areas, the Best Cities for Board Gamers are:
METRO AREA BOARD GAMER SCORE
1. Salt Lake City, UT 115.2
2. Austin, TX 111.9
3. Portland, OR 111.1
4. Minneapolis, MN 110.7
5. Raleigh, NC 110.6
6. Seattle, WA 110.1
7. Denver, CO 109.9
8. Providence, RI 108.9
9. Cincinnati, OH 107.7
10. Columbus, OH 107.5
The $3 billion global board game market is expected to increase to $8 billion by 2021. The data team at BestPlaces.net calculated each metro area's Board Gamer Score based on board game interest and sales from the MRI-Simmons Survey of the American Consumer and the Doublebase consumer preference surveys.
Rounding out the top 10 are Minneapolis, Raleigh, NC, Seattle, Denver, Providence, Cincinnati, and Columbus.
While it might seem that our reliance on the internet would cause people to neglect these sometimes bulky cardboard and plastic creations, many board game experts credit online availability, reviews, instruction videos, and user recommendations as a reason for the recent surge in board game popularity. In short, the internet has actually helped the popularity of board games rather than hurt it.
BestPlaces produces a board game that allows players to move around the U.S. completing fun adventures while finding their own best place to live. It's available here on the informational site BestPlaces.net, which gets about three million visitors a month.
Board games are usually played indoors, and it appears there is a correlation between the Best Cities for Board Gamers and areas with colder, rainier, and snowier weather.
In fact, several of the Best Cities for Board Gamers also appear on the Top Hygge Cities study. The Danish concept of "Hygge" means making the most of these times of year by being cozy and engaging in activities that elevate mood - such as reading books, lighting candles, and playing board games with friends and family. Cities that made the top ten in both lists include Salt Lake City, Seattle, Portland, Minneapolis, and Denver. For more on "Hygge" check out the BestPlaces list of Top Hygge Cities.
Click here for the full 50-city ranking of Best Cities for Board Gamers.
Cited article: https://mykindofmeeple.com/why-are-board-games-popular/
About BestPlaces
With over 3 million monthly users, BestPlaces (http://www.bestplaces.net) is the nation's premier source for finding your best place to live. Founded by author and researcher Bert Sperling over thirty years ago, BestPlaces helps users make informed decisions about where to live, work, and retire. Bert's bestselling books "Cities Ranked and Rated" and "Best Places to Raise Your Family" are published by John Wiley & Sons and he was tagged as the "The Guy Who Picks the Best Places" by the New York Times. BestPlaces is responsible for more "Best Places" studies and research than any other single organization.