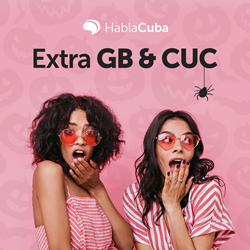 ATLANTA (PRWEB) October 25, 2020
A promo in need is a friend indeed! So Cubacel promo is back, more attractive than ever. Extra CUC? It's been taken care of. Cuban expats' families need more GB to stay connected? This promo's got that covered as well. So just like a genie in a bottle, Cubacel promo shows up to make everyone happy. And people are not restricted to 3 wishes, they can send as many top ups as they want.
The promo starts on Monday, October 26th and will do its magic until October 31st. Six whole days to think about all the Cubans who could use a top up.
For years now, Cuban expats got used to Doble Bono, extra CUC, extra GB or, every now and then, a specially seasoned Triple Bono. Oh, well, this promo chose what's best in all promos: triple bonus + extra data:
20 CUC =1GB + 60 CUC
40 CUC = 2GB + 120 CUC
60 CUC = 3GB + 180 CUC
80 CUC = 4GB + 240 CUC
The bonus is valid for: 30 days (from date when top up is received), whereas the main balance will keep the same validity as previous promotions (330 days from recharge date). The promotional minutes and SMS can be used for local and international calls (including SMS entúmovil) and cannot be transferred to other mobile lines. Only the main amount can be transferred.
If customers have balance from previous promotions and they receive a top up during promotional period, the new expiration date will be 30 days (from date when top up is received) for both (previous and current balance)
Here is how the balance is consumed:

1 Daily Bolsa - Data Browser (if available)
2 Promotional balance
3 Active Data packs
4 Main balance
Besides sending top ups, customers can also recharge their family's and friends' Nauta accounts, in order to help them gain access to the internet. Or, if they prefer calling, they can also use HablaCuba.com's calling services. Customers can place their calls:
From any landline, mobile or even payphone in the world, through access numbers.
Through the smartphone app called KeepCalling, available for iOS and Android.
The rate for international calls to Cuba is 69.9¢/min, for both landlines and mobiles, and the cost of a text message is 7¢.
All services HablaCuba.com offers revolve around the website's mission, which is to bring people together, no matter the distance, no distance is too long if people stay connected.
About HablaCuba.com
HablaCuba.com is an interactive website designed by KeepCalling, a global telecommunications company registered in 2002 in the USA. Presently, KeepCalling provides its services to hundreds of thousands of consumers, with a focus on customer satisfaction. KeepCalling has been listed by Inc 5000 as one of the fastest growing companies in the USA for 5 consecutive years. In 2015 the company registered a revenue increase of over 200% from 2011 to 2014.